English Course - People, Past and Present (Elementary level)
Learn how to use the past and present tenses in English with this free online English grammar course.
Publisher:

Advance Learning
This free online English language course will teach you about people, and the past and present form of verbs. You will learn how to tell stories about the past, form the past simple tense of verbs in English, and use positive and negative English sentences. You will also study the different rules for regular and irregular verbs, contractions, infinitive verbs, and conjunctions. Take this course today and bring your studies to the next level.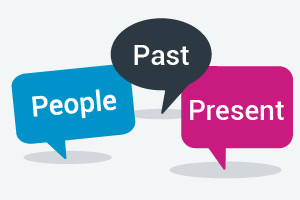 Duration

1.5-3 Hours

Accreditation

CPD
Description
The course will first introduce you to English words and phrases regarding time, and will teach you how to properly write and pronounce years, months, and dates. You will learn that by adding 'd' and 'ed' to regular verbs, they will be changed to past simple tense. You also study how the verb 'be' is used differently in English past and present tenses. This course will also teach you the use of positive, negative, singular, and plural forms of verbs in English.

You will then look at regular verbs, irregular verbs, infinitives, and contractions in English sentences. You will learn how to use contractions with negative forms such as "wasn't" for "was not" and "weren't" for "were not". You will also study why we use certain conjunctions in the past to express reasons and results, as well as why we use adverbs in English sentences to talk about states and habits. Finally, you will learn how to improve your English conversation skills.

Verbs are absolutely essential in any language, so taking this course will give you English skills a real boost. By the end of this course, you will have practiced your conversational skills, English adverbs, and English question sentences, and will have learned two very important English tenses. Additionally, the audio exercises in this free online English course will really help you become familiar with the native English accent. So why wait? Continue your English learning journey, today.
Start Course Now