English Course - Clauses and Modifiers (Upper-Intermediate Level)
Learn about English intensifiers, modifiers, quantifiers, and relative clauses with this free online English course.
Publisher:

Advance Learning
This free online English language course teaches you about Clauses and Modifiers. You will study how adverbs are used with adjectives as intensifiers and modifiers, look into relative clauses, see how relative pronouns are used in sentences, and study countable and uncountable nouns including the use of quantifiers and plural words. You will also cover relative clauses relating to people, places, things, possessions, and time.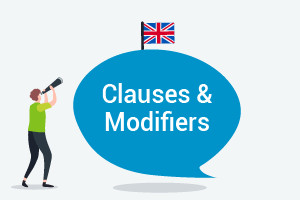 Duration

1.5-3 Hours

Accreditation

CPD
Description
This course will first teach you how to use intensifiers or adverbs to emphasize adjectives. You will learn adverbs that can help you say that something is somewhat or mildly the case. You will also learn useful phrases and questions for asking about and describing events. The course will also teach you how to use relative clauses to give information about people, possessions, things, places and times. You will also study how to use relative pronouns such as 'who', 'whose', 'that', and 'which' in relative clauses.

You will then learn how to use the comma in defining and non-defining clauses. You will study countable and uncountable English nouns including when to use them. You will also learn how to use certain words and phrases as quantifiers with countable nouns and uncountable nouns. The course will then teach you the different functions of the verb 'take' and its uses in phrases and phrasal verbs. Finally, you will learn how to sound polite in English by using intonation.

By the end of this free online English grammar course you will understand how to use English clauses and modifiers correctly, how to use proper intonation, and how to sound polite in social situations. The course lays everything out in a clear and simple manner, and is designed to boost your English skills in a short space of time. So, check out the course today and bring your English language skills to the next level in just a few short hours!
Start Course Now