English Course - Clauses and Modifiers (Upper-Intermediate Level)
Learn how to use intensifiers, modifiers, quantifiers and relative clauses in this free online English grammar course.
Publisher:

Advance Learning
This language course teaches you about clauses and modifiers. We show you how adverbs are used with adjectives as intensifiers and modifiers. We then investigate relative clauses to establish how relative pronouns are used and compare countable and uncountable nouns to explain the use of quantifiers and plural words. We also cover relative clauses connected to people, places, things, possessions and time. This course helps you to learn English.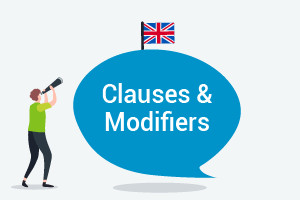 Duration

1.5-3 Hours

Accreditation

CPD
Description
This grammar course teaches you how to use intensifiers or adverbs to emphasize adjectives. We explain how adverbs can help you to describe the intensity of various situations or conditions. We also lay out useful phrases used to ask about and describe events. The course shows you how to use relative clauses to describe people, possessions, things, places and times. We also study how to use relative pronouns like 'who', 'whose', 'that', and 'which' in relative clauses.
The course demonstrates how to use commas in defining and non-defining clauses. We compare countable and uncountable nouns and establish when to use them. You will also learn how to use certain words and phrases as quantifiers with countable nouns and uncountable nouns. We then unpack the different functions of the verb 'take' and explore its uses in phrases and phrasal verbs. Finally, we investigate how to sound polite in English by using recognized intonation and inflection.
This English grammar course helps you understand how to use clauses and modifiers while you employ 'proper' intonation to sound polite in social situations. The course lays everything out in a clear and simple manner and uses exercises and audio clips to quickly boost your English skills.
Start Course Now