Emerging Technologies in Information Systems
Study the various emerging technologies like IoT and Cloud Computing in Information Systems in this free online course.
Publisher:

NPTEL
This free online course will introduce you to a variety of emerging information system technologies that organizations are implementing. Cloud computing, the Internet of Things (IoT), big data, blockchain, decision support systems, expert systems, knowledge management systems, and various other technologies will be covered. You will achieve a sound understanding of the operation of these emerging technologies in this course.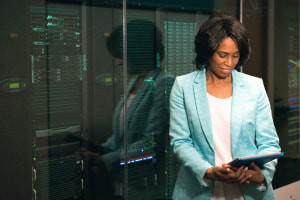 Duration

5-6 Hours

Accreditation

CPD
Description
Technology is an ever-changing market, and those who want to maintain the highest level of technology development must adapt. The consumer journey is changing, and both customers and businesses are adopting emerging technologies. As IT industry trends like cloud computing, big data and the Internet of Things(IoT) become more prevalent, the world will look to businesses that can deliver accuracy and real-time efficiency. Businesses and solution providers are also looking at the latest trends and opportunities provided by emerging innovations in order to realize their full potential and meet the demands of a technology-driven customer base. This course will acknowledge the majority of the highly valued emerging technologies that are being adopted by organizations all over the world. First, you will be introduced to cloud computing. You will understand the difference between traditional computing infrastructures and cloud-based infrastructures. Then, numerous benefits of cloud computing, as well as cloud model hierarchy, will be outlined. The various cloud service models and challenges of cloud computing will also be stated. Next, you will be introduced to the Internet of Things (IoT). You'll learn how IoT uses sensors and actuators to exchange data with the controlling software for specific purposes.

Subsequently, the different types of sensors and actuators, the four layers of IoT architecture, and the importance of IoT in smart cities will also be emphasized. You will also discover the role of IoT in home automation, access control, light and temperature control. There are various components and players that enable businesses and consumers to connect to their IoT devices, which will then be highlighted. Next, you will gain an understanding of the various benefits and drawbacks of IoT, as well as possible solutions. Furthermore, big data technology will be introduced. You will learn about the four V's of big data as well as the technology and applications of big data. Other emerging technologies including blockchain, virtual reality, and augmented reality will be addressed. Afterwards, you will discover how managers use Knowledge Management Systems(KMS) to create, store, transfer and apply knowledge in firms. Then, the knowledge management value chain, as well as enterprise-wide knowledge management systems, will be discussed. Thereafter, you will be introduced to Decision Support Systems(DSS). You will learn how Decision Support Systems assist managers in making optimal decisions for organizations.
Afterwards, you will learn how executives in any organization use Executive Support Systems(ESS) to research and solve strategic issues as well as long-term trends. Decisions that are programmed and non-programmed, as well as various features, benefits, and drawbacks of executive support systems, will be reviewed. Furthermore, you will learn about Expert Systems(ES).
Next, the components of an expert system, as well as four methods for representing knowledge, will be illustrated. You will also see how expert systems capture and transform expert knowledge into computer-based information. Then, the advantages and disadvantages of expert systems will be discussed. Finally, you will be introduced to Learning Management Systems (LMS). You will gain an understanding of how organizations use the LMS to meet their employees' learning and development needs. Finally, as an example of LMS, the emerging concept of massive open online courses (MOOC) and their adoption by various organizations, as well as MOODLE, will be presented. With the rapid advancement of technology, it has become critical for organizations and individuals to stay current on emerging technologies. This course provides comprehensive access to upgrading your knowledge of the latest emerging technologies and is intended for people who work in information technology or business or who simply want to learn about it. Enrol now and take advantage of this versed course.
Start Course Now