Effective Business Writing and Presentations
Writing and speaking well are important to being successful in business - this course gives you useful tips and advice.
Publisher:

Saylor Academy
In this free online course, you will learn about the different styles and principles of written communication. See how to plan your presentation and effectively persuade and energize your audience. You will learn how to focus on your listeners on your message and how to make ethical speeches. Strong communication is a vital part of building a good career and a prosperous company - enrolling will unlock these business secrets for you.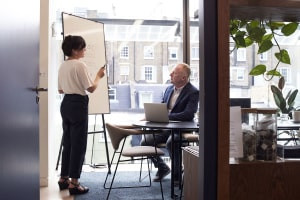 Duration

3-4 Hours

Accreditation

CPD
Description
This free online business communication course has been designed to help build your skillset in making an effective business presentation, and consequently, communication. The course begins with a lesson on the styles and principles considered for written communication. Here you will learn about the dangers of malicious written communication and legal responsibilities for businesses. You will learn about the barriers to effective written communication and how to overcome them. You will learn about factors to consider in overcoming these barriers, like sweating the small stuff, getting targeted meanings, reviewing, and revising. Business proposals are a major business communication action, and when done effectively, could be the deciding factor of whether or not a contract is awarded to a company. You will learn about this business communication action in this course, its types, and factors to consider. You will also learn about Business reports, the types, and how they are organized to provide the most effective output. You will learn about résumé. You will learn about the parts of a résumé, notably, education, work experience, contact information and goals. You will also learn how to maximise the scannable content of one's résumé.

Furthermore, the course provides an expose on business presentations. You will learn about how to plan for business presentations. Here you will learn about organizing yourself during presentations. You will learn about the concept of 'enlarged conversation' as proposed by Jessica Woods. You will learn about rhetorical situations and strategies. After learning about presentation planning, you will then learn about how to inform your audience through presentation. You will learn about how to increase understanding and the differences between exposition and interpretation, as well as bias in presentations. You will learn about the relevance of point of view in presentation. Next, you will learn about the types of presentation. You will learn about how to motivate listeners and the concept of framing. Persuasion is a popular factor in most forms of communication. You will learn the principles governing the art of persuasion and its relevance in business or marketing communication. Just like written communication, you will learn also about the barriers in presentation and how to effectively overcome them. You will learn about factors like cultural dimensions, role identities, language, ethnocentrism as possible barriers to presentation. Lastly, you will learn about argumentative strategies and the concept of emotional appeal.

Business writing and presentation are two very popular forms of communication. Businesses and individuals are constantly making reports, writing proposals for projects or contract bids, writing marketing copy, making project proposal presentations, being interviewed, writing résumé, and the list goes on. But like other forms of communication, this one requires, in most cases, strict adherence to the rules guiding it. This course will discuss writing in a business context, and how effective writing compares with effective speaking. In order for an individual to become proficient in writing, they must develop some important habits: things like critical thinking, reading, and targeted writing practice are undeniably essential components of an efficient writing process, and more so, in the case of writing business texts. This free online course will help the learner understand the barriers to effective business communications during the writing and presentation phases, as well as how to apply the right techniques and ethics in business writing. As an individual in business, a skill like effective business writing should not be overlooked; you will most definitely need it. Enrol today and start learning.
Start Course Now