Effective Business Writing and Presentations
Improve your business writing and public speaking skills with this free online leadership and communications course.
Publisher:

Saylor Academy
Learning how to speak and write effectively can make a huge difference to your professional life. Expertise in these two crucial forms of communication can make the difference between success and failure in business and this course shows you how to improve your communication skills. Workplace presentations can be nerve-wracking but solid preparation and polished skills can lead to your gaining confidence and delivering stellar performances.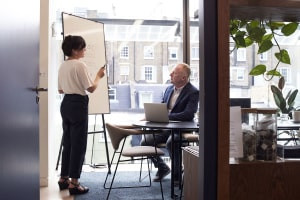 Duration

3-4 Hours

Accreditation

CPD
Description
This course helps you develop your business communication skills. We begin with a lesson on the styles and principles relevant to written communication. We examine the barriers to effective written communication and explain how to overcome them. Business proposals are an important element of professional communication and can be the deciding factor of whether or not a contract is awarded to a company or whether you receive that promotion down the line.
The course provides a detailed analysis of business presentations as we show you how to plan and develop one. We discuss psychologist Jessica Woods' concept of 'enlarged conversation' to help you prepare effective presentations before providing tips to improve your delivery. We explain how to motivate listeners and examine the concept of 'framing'. Communicators often aim to persuade and we go over the principles governing the art of persuasion and establish its relevance in business or marketing communication. As with the previous section covering written communication, we identify the barriers to understanding speech and provide ways to overcome them.
This course explores the specific demands of writing in a business context and compares effective writing with its spoken counterpart. Strong writing skills are built on a foundation of good habits, including critical thinking, frequent reading and tailoring language for specific audiences. These skills make a crucial difference in the workplace and solid business communication abilities will boost your career, whether you run a small business or want to take a management track in a large company. We help you draw on the key principles of communication to enthrall and persuade your audience, which will enhance your leadership and management skills.
Start Course Now