Easy Dog Training Methods to Stop Dog Barking
This free online course teaches you how to stop dog barking in the home, in the car, at cats and at other people.
Publisher:

Sharon Bolt
During this free online dog training course you will learn how to communicate to your dog in a language they understand. You will learn the calm and confident words and dog training methods that quickly stop incessant barking at the front door, back yard and even at the mail person. You'll also learn how to integrate dogs that bark at men (or women) as well as the best methods to use for dogs that bark in the car and at cats.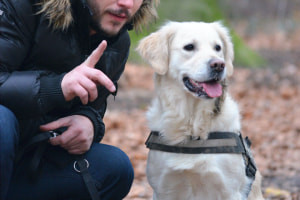 Duration

1.5-3 Hours

Accreditation

CPD
Description
This free online dog training course is designed for any dog owner, regardless of their experience, who would like their dog to bark and alert them when someone comes to the front door, or if there's a disturbance in the back garden, but to immediately stop barking on command. It is also for people who would like to know how to stop their dog from barking at men (or women), how to integrate dogs who bark in the car and how to best work with dogs who bark at cats. This dog training course focuses on empowering you, the dog owner. You will be given the tools, knowledge and dog training methods in order to get your dog to listen to you and respond favourably to what you say. You will be shown exactly how to complete the dog training methods through step-by-step video demonstrations using the pack leader theory combined with positive reinforcement techniques.
During this dog training course you'll learn precisely how to stop your dog from barking incessantly when someone comes to the front door and how to cease barking in the backyard on your command. You'll also discover the best methods to use when dogs bark at people, cats or whilst in the car. You will be taught dog training techniques that convince your dog, in a kind and confident way, that you are in charge and that their job is to alert you, as the pack leader, that there is potential danger rather than demonstrating uncontrollable territorial behaviour. During this dog training course you'll also discover why the mail person makes dog barking much worse plus the crucial part you play - your reaction and what you say can either calm the situation or encourage more frenzied behaviour from your dog. This dog training course will teach you how to give the right message to your dog which causes them to relax and trust in your decisions.
By the end of this course you'll have the dog training knowledge and confidence you need to make a positive difference to your dog's incessant barking. You will also discover how you can become your dog's pack leader without shouting, hitting or using force, in this area. Imagine someone coming to your front door or a disturbance in your back garden, your dog barks to let you know that someone's there and stops barking straight away when you say. Picture how it would feel to have a dog who calmly walks past cats, says a friendly hello to people and relaxes and even goes to sleep during car journeys. That's what you can look forward to after completing this dog training course. So why wait? Start this free online dog training course today!
Start Course Now