Drawing Anime Characters – The Head, Face & Eyes
Learn techniques that will make it easy to draw the facial features of an anime character in this free online course.
Publisher:

Manar Ali
This free online course will demonstrate the steps and techniques needed to draw stunning facial features for anime characters. Specifically, you will learn to draw the head, hair, face, mouth, and eyes. You will also learn to draw these elements from different perspectives, differences between male and female characters' facial features, and how to distinguish them yourself in your drawings.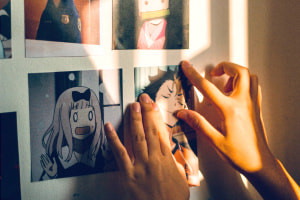 Duration

1.5-3 Hours

Accreditation

CPD
Description
This short, free online course will introduce you to drawing anime characters and show you how to draw the head, eyes, ears, and other facial features. We will start with an introduction to the tools used and the basics of drawing a character's face from various viewpoints. We will then proceed to introduce different anime face and eye shapes and the basics of drawing the eyes of an anime character. The first half of the course concludes by outlining the differences between boys' and girls' eyes and the techniques for drawing symmetrical eye pairs.
The second half of the course covers drawing the mouth, nose, and hair of anime characters. You will learn about nose and mouth shapes and how to draw different mouth positions. This half of the course also covers the basics of drawing the hair of a character. We'll show you the techniques of drawing braids, pigtails, short and long hair in female characters. The course concludes with demonstrations on drawing curly hair for female characters and how to draw the hairstyles for male characters.
This course will teach you and skills needed to draw and accentuate the facial features of anime characters, such as their eyes, noses, ears, hair, and mouth. You will learn trusted techniques that greatly simplify the character drawing process and improve your drawing skills overall. If you are an animator, prospective animator, an anime fan, or someone looking to pick up a fun new skill, this course will be perfect for you. Start now and be on your way to drawing detailed anime faces in less than 3 hours.
Start Course Now