Drawing Anime Characters – Full Features and Emotions
Learn techniques for drawing the full features & emotions of Anime characters in this free online course
Publisher:

Manar Ali
Learn the techniques that would simplify the process of drawing Anime characters' complete facial body features and emotions; in this short free course. You will also learn to draw stunning male and female characters of different ages, their clothes, and how to accentuate their features. You will learn the techniques to draw stern, crying, and laughing characters and greatly improve your animation or illustration skill level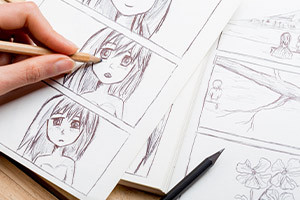 Duration

1.5-3 Hours

Accreditation

CPD
Description
This short, free online course covers the techniques for drawing the features and emotions of Anime characters. It begins with a demonstration of how characters' emotions can be added to their faces and an explanation of simple techniques for adding emotions to a character. It goes on to demonstrate the process of drawing a completely detailed face of a female character, as well as that of a serious-looking male character. This part of the course concludes with a demonstration of how a complete female character is drawn.
The second half of the course begins with a detailed explanation, and a demonstration of how the facial features of a male character can be added to make a complete front view, and how to add the clothes. This is quickly followed by a demonstration of how the side view of a female character's face is drawn, and how facial features are added to this view. The course concludes with a summary of earlier lessons, and advice for beginner and experienced artists.
This course contains detailed explanations of techniques for adding emotions to animated characters, and for adding their face and body features.
The knowledge gained by taking this course is sure to simplify the process of drawing, and adding emotions to Anime characters, or any drawing for that matter. Whether you are new to, or experienced with animated drawing, taking this course is set to improve your skills in under 3 hours.
Start Course Now