Diploma in Web Accessibility
Learn about web accessibility and the Web Content Accessibility Guidelines (WCAG) with this free online course.
Publisher:

BCcampus OpenEd
This free online course explores issues pertaining to web accessibility and its vital role in modern web design and development. This course explains why web accessibility is important, whom it helps and the kind of technologies and measures that can create accessible interfaces for all. This course is split into three sections: an introduction to web accessibility, its development and finally its auditing.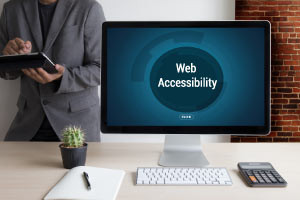 Duration

6-10 Hours

Accreditation

CPD
Description
This free online course covers web accessibility and its useful role in modern day web design and development. We explain the important reasons for web accessibility and the various technologies and methods involved. This course is split into three parts and breaks down the material into manageable chunks so you can learn every aspect of it at your own pace.

The modern web is a great mix of technologies and formats. For people with disabilities, it can be hard to navigate, operate and interact with web content unless it is displayed in a suitable manner. This course unpacks the international standards of web accessibility and how to adhere to them. We break down the steps required to develop accessible web content step by step. Finally, we examine web accessibility auditing and its role in ensuring web content can be experienced by everyone.

Accessibility has become a standard part of the web industry so this course can help anyone looking to work in the development of online content. It also suits people who want to work in the growing field of accessibility auditing or who even just want to know more about the technological barriers facing people with disabilities.
Start Course Now