Diploma in Visual Basic Programming - Revised
Learn the core concepts of Visual Basic and how to develop programs that can be used as front-ends for databases.
Publisher:

Channel 9
This free online Visual Basic certification course is designed to teach you the information you need to start using Visual Basic. As demand for software developers rapidly increases, development skills become more and more valuable. Visual Basic is one of the most important programming tools in the world, and understanding it can be an essential to your skills and knowledge as a programmer. Learn Visual Basic today with this free online course.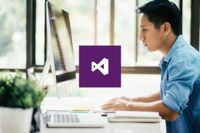 Duration

6-10 Hours

Accreditation

CPD
Description
This course will first cover the installation process of Visual Studio and help you select the correct options for your first Visual Basic program. You will study the different code terms, data types, variables, and statements that you can use, as well as the different syntax elements, operands, operators, strings, and iteration statements. You will also learn how to display the date and time in different formats for the end user to see.
Next, you will study the nature of classes, methods, scopes, and modifiers. The course will also cover Namespace, the .NET framework class library, and collections, as well as teach you the difference between generic and non-generic collections. You will also look into Language Integrated Query (LINQ) and enumerations including their functions in this programming language. Finally, you will study the 'Try Catch' and 'End Try' block code and learn when to use them while writing code.
Building software applications is a skill that one needs to develop constantly. This free online Diploma in Visual Basic Programming contains video tutorials that will ensure you clearly learn the different ways to write your code using Visual Basic. This is a great skills that will really boost your computer programming career. Check out the course today, and start learning how to build really engaging and useful applications in no time at all.
Start Course Now