Diploma in Violin Mastery
Learn the techniques of playing music on the violin from beginner to mastery level in this free online course.
Publisher:

Rimma Violinist
Playing the violin is an enjoyable activity that improves memory and attention span. Are you willing to learn and improve your violin-playing skills in a short period? We'll teach you everything you need to start playing your favourite tunes in no time. We'll show you musical symbols and markings to better understand music. Explore various musical pieces and learn how to play them on the violin. Enrol today and enjoy this captivating instrument.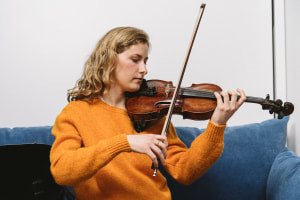 Duration

6-10 Hours

Accreditation

CPD
Description
The first step in learning how to play the violin is choosing the correct violin to suit your needs. Violins come in different sizes, qualities and price tags, making it challenging to find the right fit for you. This course covers important information regarding various parts, accessories and factors to consider when purchasing the right violin for your use. One cannot correctly play without tuning the violin strings first. Discover three easy-to-follow methods to tune the strings and make them sound precise. Reading music helps understand the structure of musical pieces and how to join pieces to produce melodies. Discover different musical symbols and markings and their differences. Explore how to use the bow and notes on the strings to compose various musical notes.
Scales are a collection of musical notes put together as per the pitch of the notes. Playing scales helps to improve your technical abilities and develops the accuracy of the pitch of any note. We'll show you how to play different scales to improve the quality of your performance. Examine other characteristics of notes, including the rise, intensity, duration and how you can play them. When you play different scales, it is convenient to change the position of your fingers on the strings to produce the desired sounds. We demonstrate simple techniques for changing the position of the four fingers on the strings to play scales. You produce articulations when you use the bow differently, creating many expressions or sounds. Locate the main articulation types and the bow's movement, speed and position to play them. Make notes fuller and richer by using vibrations of the hand and fingers.
We designed this course for those wanting to develop and improve their skills as violinists. It is also helpful for professional violinists who desire to further their skills. This course requires no pre-requisite knowledge or experience. We cover the entire process of learning a violin, from selecting the right one to developing intricate skills and abilities. This course offers several exercises and guidelines to check your progress and fix any mistakes you make, thus eliminating any need for hiring a professional to evaluate your performance. Expertise in violin offers several career options for professional violinists including musicians, educators and even consultants. Join the course now to become a professional in the violin.
Start Course Now