Diploma in Developing Applications with Kotlin in Android Studio
This free online course discusses version control, and the development of chat apps using Kotlin programming language.
Publisher:

YouAccel Training
Developing Applications with Kotlin in Android Studio is a free online course that explores the use of Kotlin for creating applications. It covers a wide range of concepts from working with version control systems to the use of web request and chat APIs. You will learn how to navigate the Android Studio console, create chat applications and upload them to the Google Play Store, along with many other key components of Kotlin.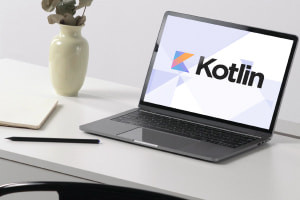 Duration

10-15 Hours

Accreditation

CPD
Description
Learn Kotlin with this free online course that is specifically prepared to take you through developing and creating chat applications using Kotlin programming language. It explores the use of git version control and other concepts that can aid the development of applications in Android Studio using Kotlin. Kotlin was developed by JetBrains to address some common programming challenges that existed. Once you are taking through the installation of Android Studio and the IntelliJ IDEA platform, the course outlines the many considerations for running applications on Mac, Linux and Windows.
Creating projects in Android Studio goes beyond declaring variables and assigning data types. Sometimes, crazy situations like having to debug already written codes become a problem. This Kotlin Android development tutorial introduces the effective use of version control systems for emergency situations or debugging. It describes in detail the appropriate use of strings, conditional logic, class inference and Lambda expression. Some projects often require multiple developers working in parallel, therefore it is important for developers to learn how to handle merge conflicts. To work with Android Studio, learning about its activity class and activity lifecycle is as important as mastering how to manoeuvre the Android Studio console. What is an activity? It is simply a single, focused task that the user can do and almost all activities interact with users and in addition to activities, the content also covers details on array adapters, creating custom adapters and presenting data in a list view.
Almost every application makes use of a web request (also known as HTTP) and these web requests are essential in providing the user with correct and preferred web pages that the server displays on the user's interface. Along with how to work with the different types of web requests, you will learn about the application programming interface (API), how to create an APK file, and how to upload an application on the Google Play Store. If you are a programming enthusiast, student or a developer wanting to learn a new coding language, then you should enrol in this Kotlin programming tutorial and add this exciting language to your skill set.
Start Course Now