Diploma in Decision Support Systems for Managers
Learn how DSS summarises data in a valuable form to aid managers with decision-making in this free online course.
Publisher:

NPTEL
Would you like to make better decisions as a functional manager? This free online course on Decision Support Systems for Managers will improve your understanding of how technology helps to assist managers with decision making. This system ultimately increases accuracy as it is not prone to human mistakes and biases. Decision Support Systems (DSS) does not substitute managerial decision-making but supports it and makes the process more effective.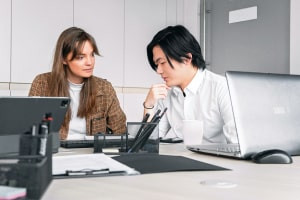 Duration

15-20 Hours

Accreditation

CPD
Description
This free online course, Diploma in Decision Support Systems for Managers, is an introductory course on the different systems that are available to managers to assist with decision making. You will be taught what a decision-making system is and why it is needed. This course will explore the many different Decision Support Systems (DSS) models available, the characteristics of these systems and what department and level of management are best suited to each method. Decision support systems have attained enormous popularity in numerous domains, including military, security, medicine and business, to name a few. DSS can support decision making in circumstances where accuracy is of the essence. Additionally, they grant admittance to relevant information by combining different forms and data sources, aiding human cognitive insufficiencies. DSS uses artificial intelligence to address difficulties. As such, you'll obtain comparative values basis or a mixture of some formal techniques. The end decision remains with the user.
Next, you will learn how decision support systems are designed to gain a competitive edge. You will know how an effective DSS provides impartial data analysis, real-time monitoring and robust reporting, assisting users in making an informed decision in a limited time. A meticulously designed DSS uses analytical models, various mathematical and econometric, and human knowledge and insights to aid decision-making. In today's extremely aggressive business environment, managers need an interactive and active decision support system that maximises their performance and, ultimately, the business. Designing a DSS is a combined effort that demands everyone to be involved in the project development. Programmers are responsible for building the software; managers need to indicate the results they seek from the software and the different variables that need to be considered to arrive at decisions.
Decision support systems have been fused into companies to help human intelligence for years. However, these systems are not flawless. Although DSSs stop a decision-maker from developing a prejudice, they only aid in decision making by contributing valuable insights. The idea is to present all actual knowledge in the forms of charts, images or writing so that users do not omit facts. While many businesses have now incorporated DSS into business decision-making, some are still opposed to its integration. There may be several factors why they are doubtful in adopting a DSS. Nonetheless, management can help employees overcome the fear and resistance to using new technology. Are you interested in pursuing a managerial position, or are you already in management but want to increase your marketability? Enrol in this course today and learn about the different supporting systems that can aid you in excelling in your role.
Start Course Now