Diploma in Cascading Style Sheets with NPM and Sass
Learn why many developers are using Sass and the pros and cons of utilizing this service in this free online course.
Publisher:

Juan Galvan
This free online course is an expert course on Cascading Style Sheets using NPM and Sass. You will learn about NPM and the pros of utilizing this service. In addition, this course will go into detail on how Sass works with NPM to provide a seamless coding experience. Have you ever wondered how you add images to web pages or what layout style is best for your website? This course will explore the possible solutions to these questions.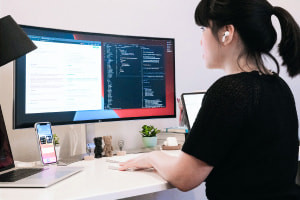 Duration

10-15 Hours

Accreditation

CPD
Description
If you are a web developer, a student, or fascinated with webpage design, this course is suited for your needs. This course is unique and, despite being in-depth, is easy to understand. You will learn tips and tricks used to increase your efficiency when coding. It also provides step-by-step instructions on how to create a web page from scratch. This course explains why many developers use Sass and describes the advantages and disadvantages of using this service. In response to this, you will see why Ethan Marcotte found it necessary to invent the idiom 'responsive web design'. Then, the course describes how this breakthrough is beneficial to web development today.
The following section introduces you to different ways of making images responsive and optimized. You will learn why CDN can handle more traffic and endure hardware breakdowns better than many original servers. Next, we will expose you to different website designs and help you understand how they are modified to fit your device screens. You will know their pros and cons, if any, and ascertain the main reasons why you design a website to cater to each device. Finally, explore the different file types used to assist with the coding of your website and investigate how these files significantly influence the result of your website design.
Finally, this course will enlighten you with the advancements made in web development over the years. While many improvements have been made, it is also evident that further needs to be done. Sass is an excellent means for website developers who ponder the issue of enhancing their web design with fundamental programming functions. The installation is straightforward, and the Sass language and syntax are expeditious to study. In addition, the diverse programming functions create more realistic stylesheets. This course will explore all the areas of Sass and NPM to help you grasp how it works. Are you ready to start your career in website development? Then don't wait any longer and enrol in this course today.
Start Course Now