Digital Landscapes
Learn how to create amazing environments for films, games and more with this free online digital landscapes course.
Publisher:

Igor Golyuk
This free online digital landscapes course will guide you through the key processes involved in creating digital background images for games, architecture and more. This graphics course will explore the techniques such as lighting, corona proxy and corona scatter that can be applied to many different creative projects and as well as all about modelling, software and other tools that will assist in creating photorealistic landscapes.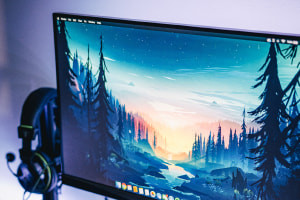 Duration

1.5-3 Hours

Accreditation

CPD
Description
Creating a digital landscape is a skill that is highly valued in many industries such as architecture, photography, cinema and many others. This graphic design course has the necessary information to unlock your potential in computer graphics and is excellent for beginner and intermediate 3D artists who are familiar with the 3ds Max program interface and want to take their career to the next level. This graphic design certificate discusses how to create beautiful and photorealistic worlds in 3ds Max and Corona renderer and some of the tools and techniques focused on in this section include the Corona proxy technique to convert object models to proxy objects, how to combine the Corona scatter technique with the Corona proxy technique to distribute proxy objects on a plane along with the other lighting techniques and atmospheric effects to create a fantasy landscape.
Modelling is an important aspect of computer graphics that enables a 3D artist to design and visualize space environments. A practical demonstration for modelling covers how to create an ancient temple and its elements using the reference images technique and the role of 3ds Max software  tools such as the spline tool and the polygon tool to model elements. Specific other elements you will learn about to enhance your ancient temple are the mirror tool and fillet tool to mirror objects and make outlines of an image rounder and the texturing technique to add texture to models. Using shadows is also very important in designing photorealistic graphics and this is done by the ambient occlusion rendering technique which also improves aerial perspective. The rock generator plugin is the next piece of content discussed after which you will learn how to do your post-production edits using Photoshop.
Knowing how to create, modify and apply computer graphics is a highly valuable skill in today's economy. This course will take you through the creation of large and beautiful landscapes and how to model architectural objects. In addition, you will learn the intricacies of creating materials, textures, lighting, aerial perspectives, weather effects such as fog, and various modifiers to refine your project, render and execute the final post-production of images in Photoshop. Using this technical graphic design knowledge, you can create impressive and spectacular surroundings for a variety of uses and projects and this course is aimed at beginner and intermediate 3D artists alike who want to add technical skills for use in their work and portfolios.
Start Course Now