This free online course on the Process of Community Development teaches the skills required to successfully deliver community projects, ranging from communication and leadership to presentation and facilitation. You will learn about the media relations and communication techniques, recruiting volunteers and organizing a successful volunteer program as well as about the successful partnership requirements.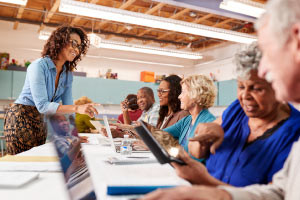 Duration

1.5-3 Hours

Accreditation

CPD
Description
This free online course on the Process of Community Development, is the second in a series of courses that will aid in building successful community development projects. You will learn about sustaining momentum during a community development project and about evaluating the effectiveness of the project. Using community health as a springboard for understanding community development, you will be exposed to the key skills needed in delivering community-based projects such as effective communication and facilitation techniques, presentations and leadership skills.
Furthermore, you will learn about various media communication techniques such as writing a press release or how to answer difficult questions as well as work effectively with other organizations in the community and how to identify the key factors required in making a successful partnership. You will also learn about fundraising, the pros and cons of different types of fundraising and the phases of fundraising. Volunteers are a key resource in any community project and you will learn how to recruit them and what makes a successful volunteer program.
Finally, in this free online course you will learn about the methods of evaluating the community project and steps to sustain progress in a community group. Studying this online course will be of great benefit for anyone working in a community development as well as for individuals or community members who want to learn more about the key skills needed to deliver a successful community project. Enroll in this course today and improve your knowledge and skills on community development processes.
Start Course Now