Decision Support System for Production and Distribution
Learn how the use of DSS in production and distribution can increase productivity in this self-paced free online course.
Publisher:

NPTEL
This is an introductory course on decision support systems (DSS) for production and distribution. You will examine the numerous types of DSS available, their characteristics, and why successful managers use them to assist with decision-making. Are modern businesses more profitable when using DSS? This course explores their uses and helps you understand DSS's true worth in a manufacturing organisation.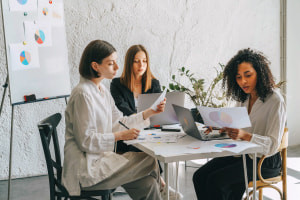 Duration

3-4 Hours

Accreditation

CPD
Description
Management may opt to use a DSS as it improves operations by using the information gleaned by management systems and coupling data analysis tools with high-level optimisation procedures. In today's competitive business climate, impeccable decision support system software has become vital as it offers undeniable advantages. The most suitable DSS depends on organisational culture, complexity, and size. You will learn that DSSs are used for making common day-to-day choices and help predict future trends in production and distribution, essential departments in a manufacturing business. Their effectiveness, flexibility, and efficiency have to be up to par. While many factors are involved, a manufacturer's success depends on the quality of the goods produced and how quickly they can distribute their products to meet the customers' demands.
Why do some companies remain at the bottom and lack financial gain? In this course, you will also learn how businesses can profit even at the bottom of the pyramid. You will go on to discover how public services are priced to provide excellent service and be economically affordable to the citizens in a country. Explore why service providers and goods manufacturers have to change their marketing strategy to appeal to both urban and rural customers. Learn what net present value (NPV) is and why it is one of the most extensively used calculations for assessing capital investment proposals. This course shows you why companies invest heavily in their production and distribution departments. Management in these departments needs capable systems to assist with unbiased and well-defined decisions as there is very little room for error.
Finally, it highlights the many benefits of having a DSS in your production and distribution department. While DSS systems are mainly designed with managers in mind, they also help other employees by reducing the workload, and lightening paperwork. But it can be harmful to the workforce because forecast trends could result in cutting back workloads if production has to slow down. However, it could be a win for the company as fewer hours worked is equivalent to fewer hours paid and may be regarded as a profit. Do you aspire to improve the progression of your manufacturing business? Enrol in this course today to start your journey!
Start Course Now