Crystal Healing
Learn how to use crystals and gemstones for cleansing and the healing of various ailments in this free online course.
Publisher:

CourseFlix
Crystal therapy necessitates the use of crystals or gemstones to help in healing ailments. It's not enough to know that crystals heal, but how exactly do they work? This free online course will introduce you to the healing powers of crystals and how they work scientifically and spiritually. You will be taught the various energy centers in the body as well as the different types of crystals for healing and the ailments they can treat.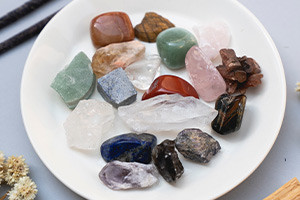 Duration

1.5-3 Hours

Accreditation

CPD
Description
Crystals such as sapphire and rose quartz are made up of microscopic molecules that are arranged into highly ordered structures to form crystal lattices that extend in all directions. 'Crystallization' is the formation of such crystals and their scientific study is referred to as 'crystallography'. Crystals have been used for millennia as they have long been seen to contain centered energy that can be used for healing mental or physical ailments and disorders. This course examines various crystals and gemstones and lays out their healing attributes and how to use them on the body. Some crystals are believed to possess some sort of spiritual energy that can be harnessed to communicate with the 'higher self' or even higher beings and this course explores this phenomenon.
The course then delves into the various energy centres in our bodies, which can also help to heal ailments and promote wellness, as we break down the complexities of vibration frequencies. Are you a crystal healer seeking to expand your knowledge? We demonstrate the methods you can use to increase and sustain their healing attributes. We then show you how to make an elixir from crystals for deeper cleansing and healing. This course go through the various ailments that such elixirs can address, including anxiety, stress, fatigue or insomnia. Upon that, we show you how crystals increase focus and concentration when working and multitasking.
Are you frightened of public speaking? We teach you how to harness crystals' mystical energy to overcome shyness and remain confident and relaxed in the face of anxiety. You can also use such powers to rid yourself of addictive energy and even trim excess fat off your body. The course demonstrates the method of using crystals' mysterious energy frequencies to find and claim a perfect mate while they improve your immune responses. Finally, we take you through the process of identifying crystals that best suit your particular goal. This course is designed for anyone intrigued by crystal healing and can help you if you are seeking a solution to a sickness of the body or spirit. This course can also help anyone looking to boost their energy levels and buttress their sense of wellness as this course guides you towards new ways to care for yourself. Enroll and start this course today.
Start Course Now