Creating an Ethereum Blockchain using Solidity
Learn to create an Ethereum Blockchain, and Smart Contracts using Solidity, in this free online course.
Publisher:

Sonar Systems
This free online course will introduce you to the concepts of Ethereum Blockchain technology, Ether, the cryptocurrency, as well as creating smart contracts using the Solidity Programming Language. You will learn how Ethereum compares with Bitcoin, as well as the inner workings of the Ethereum Blockchain technology. You will also learn how to use Solidity, the programming language used to create Ethereum Smart contracts.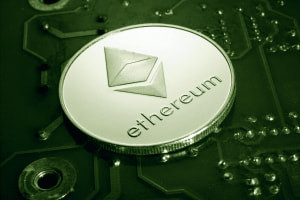 Duration

3-4 Hours

Accreditation

CPD
Description
This free, online course will teach you about the Ethereum Blockchain technology, as well as how to create smart contracts using Solidity. The course begins by distinguishing between Ethereum and Ether, Bitcoin, and Ethereum Classic; followed by an explanation of Smart Contracts, Gas, Ethereum Mining, and Virtual Machines. The first module concludes with demonstrations on how to install Ethereum on various platforms, as well as how to set up Remix Online IDE, which makes it possible to create smart contracts on the web.
The course proceeds to cover Solidity; introducing the language, and explaining the process of creating simple contracts, writing comments, creating Conditional Statements and Loops. This part of the course also explains the data types and units, that are used in Solidity. You will also learn how to create functions, arrays, Structs, Enums, and other Solidity features that are vital to the process of creating Ethereum smart contracts. The course concludes with explanations of concepts like Contract inheritance, Abstract contracts, Constructor arguments, Assessor Functions, and Events.
This course is suited to individuals interested in learning about Ethereum Blockchain, or Blockchain technology in general, as well as individuals interested in learning how to create Smart Contracts with the Solidity Programming Language. Ethereum is a highly versatile Blockchain technology since its uses far exceed the conventional cryptocurrency applications. This course will introduce you to Blockchain technology, its inner workings, and how to use Solidity to write smart contracts for an Ethereum Blockchain in 3 hours.
Start Course Now