Child Psychology - Managing Development
In this free online course, learn about child psychology, cognitive abilities, and social-emotional development.
Publisher:

Montessori Pro
This course on child psychology provides learners with the essential aspects of psychology for children of different age groups. It discusses the fundamental elements concerning behavior and emotions. In addition, it entails common psychological problems in children and the approach that teachers and parents must take. Therefore, this course is ideal for students and professionals who want to acquire knowledge on child psychology.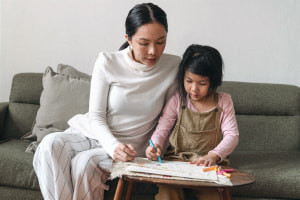 Duration

1.5-3 Hours

Accreditation

CPD
Description
Children are the most vulnerable component of any society. When properly raised, they will benefit the community in the best way possible. However, if their parents and teachers fail to bring them up properly, they may face severe consequences. Therefore, when one talks about the upbringing of the children, one of the most important things to look after is to cater to their psychological needs so that they may develop with a psychologically sound mind. Equally important, individuals should especially consider the psychological and mental development areas during the children's pre-school years. During this period, children rapidly adapt to the changes in their surroundings, and their observing and comprehending skills are at an all-time high, which then impacts their psychological development. Therefore, both the parents and the children's teachers must have a basic knowledge and understanding of the children's psychological, emotional, social, and cognitive development during this age to contribute to healthy growth.
Alison's leading Montessori Teaching trainer has prepared this introductory child psychology course by considering the importance of learning about a child's psychological development. Several questions from parents and teachers were taken into consideration during the preparation of this course regarding the psychological development of children. That is why the learners will find it oriented around the primary areas of a child's psychological development. It discusses the child's overall psychological upbringing's cognitive development, genetics, personality, and prenatal development. Also, several notable and common psychological disorders in children are discussed, along with the correct methods of approaching children suffering from such conditions. The topics presented in this course examine the basic approaches while addressing the psychological needs of the children, the essential aspects of child psychology, different psychological problems in children, and techniques for children with psychological disorders. Students can take notes of important points for future reference while studying the course content.
Furthermore, the four topics mentioned above come in a single module. Therefore, each topic will introduce its subject and enhance students' knowledge throughout the course. Additionally, each module contains a list of objectives for the student to achieve at the end of the course. The aim is to help the readers reinforce the essential knowledge they have gained through this information. Remember that gaining an accurate understanding of what Child Psychology means for our society is a boost for any student who wishes to immerse themselves into this vital quest for well-being and a better community. Finally, this course includes an exciting assessment to help the participants test their overall learning status. The student can take the evaluation many times, and there is certainly no limit to it. After completing this course successfully, all the participants will have the opportunity to obtain an Alison certificate. So do not wait any longer and immerse yourself in this fascinating area of psychology.
Start Course Now