Cargo Handling Equipment and Safety
Learn about cargo handling equipment and safety procedures in the marine environment in this free online course.
Publisher:

ADU
The different procedures and methods of ensuring cargo handling safety for maritime equipment on board ships are just a few of the topics covered in this comprehensive course. Learn how to prevent damage to stowed cargo, injuries or loss of life of relevant stakeholders undergoing cargo loading services at cargo transport ports. Register for this course today and explore the essential and safest aspects of cargo handling.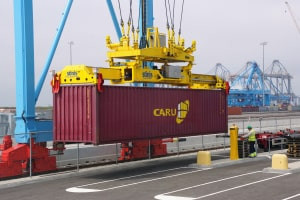 Duration

1.5-3 Hours

Accreditation

CPD
Description
Moving different forms of cargo on maritime carriers is how most goods are transported across long distances. The benefits of this type of movement include cost savings for shippers, the efficiency of processes and general safety. Handling heavy cargo, even with machines, can constitute a great danger to those in and around the ship. Stowing these types of cargo can be difficult and lead to losses where due care is not taken. Shippers have also noted that observing some precautions before and after loading cargo for handling and stowage are essential. It is therefore necessary to provide relevant stakeholders with standardised rules for safely handling cargo equipment to prevent property damage, injury, and fatality. This course from Alison will discuss the different aspects relevant to ensuring necessary protection for people and machinery involved in cargo handling stowage on board carrier ships. Learn about seaworthiness in marine insurance along with establishing effective communication for safe cargo handling.
Analyse the procedures and methods to ensure cargo handling safety for maritime equipment onboard ships. Learn about the precautions and techniques of preventing damage to cargo as well as injuries to relevant stakeholders undergoing cargo loading services. The course covers precautions for cargo loading before, during and after voyages. Then we discuss important aspects of correctly handling equipment from the rigging of derricks, topping lifts, cargo runners and ship's rigging plan. Aspects related to cargo handling safety covered in this course include the safe working load of gears and hatch covers, along with inspections before starting cargo carriage. Furthermore, components used for the proper handling of cargo illustrated include different types of slings, snotters, trays and pallets. Study the precautions and regulations involved in the safe handling of maritime cargo equipment. This includes the dock safety regulations together with precautions during cargo operations are also well discussed in this course.
This course from Alison equips learners with insights into cargo handling safety and equipment on board ships transporting cargoes from their ports of origin to their ports of destination. Learn about the elements of maritime policy, insurance and assurance. You will also study the concepts of seaworthiness, effective communication and dock safety regulations. This course will guide learners through cargo-handling equipment based on the nature of the cargo and the type of packing used. Then you will analyse the elements of safety awareness and its importance to the safety of stakeholders involved in cargo loading activities. The course will be of significant interest to students, logistic entrepreneurs, researchers, marine operations managers, marine engineers and anyone seeking to learn about the handling of cargo equipment and safety on board ships. Register for this free online course from Alison today to improve your understanding of cargo handling equipment and safety.
Start Course Now