Cargo Handling and Stowage - Liner Operations
Learn about cargo handling from liner operations in international container movements from this free online course
Publisher:

ADU
Cargo Handling and Stowage - Liner Operations is a free online course that offers an in-depth analysis of liner operations in maritime logistics. The course covers the history of the world's shipping industry, liner operators, including the types of liner ships and container ships. Learn about the role of liner cartels in liner developments and mega container ships. Register for this course today and begin your next learning journey!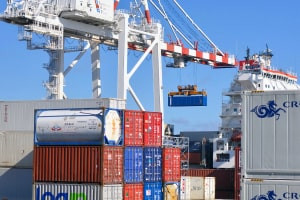 Duration

3-4 Hours

Accreditation

CPD
Description
The movement of containers across the sea is often referred to as the motor of the global economy. It is responsible for the larger share of transporting goods from manufacturers to other far coasts where they are in great demand for exchange in trade. The demand for moving fleets of cargoes rose till container ships found it difficult to move excess cargo containers on time while maintaining reasonable prices. This gave rise to the advent of liners in maritime logistics as a solution to the crisis. Liners enhance fleet productivity for shipping companies while bringing down operating costs through innovative strategies. Such strategies consist of different operations, services, and agreements with approaches covering the cutting down of shipping schedules. This is achieved by reducing port calls together with creating linkages between services using multi-trade operations. The advantages of liners were so profitable to maritime shipping companies that some saw it fit to adopt the acquisition of liners. This was achieved through mergers with competitors and fierce rivals to raise huge capital for the costly mega container ships in maritime logistics.
Cargo Handling and Stowage - Liner Operations is a free online course that offers a general outlook on liner operations in maritime logistics. Get to study the history of the world's shipping industry, liner operators, along with the types of liner and container ships. Key liner shipping aspects involving the role of liner cartels in liner regulatory developments are evaluated in this course. The course also explains different liner service strategies in ensuring reliable service to foreign destinations at a relatively stable freight rate. Other concepts discussed include approaches for refining individual service patterns as well as the multi-trade strategies used in the industry. Important insights from industry experts on contemporary issues in liner operations are referenced in this course from liner strategies, container types, and liner conference systems.
This course is great for anyone seeking a general understanding of liner operations in handling and stowing cargoes properly. By taking this course, you will explore various concepts encompassing liner operators and cargoes onboard liner ships for carriage across vast voyage routes. The course consists of crucial elements bordering on mega container ships and maritime logistics, as well as their numerous impacts. The course will guide you through an analysis of maritime transportation and logistics costs of using mega-ships and containers. You will also analyze issues concerning warehouses, port infrastructure, and congestion. Important aspects of deck cargo covered by the course shall expose learners to all modes and precautions necessary for achieving the maximum permissible cargo load onboard ships. Recent trends observed in profitable shipping sectors are presented in line with the categorization of mega container ships. The course will be of significant interest to students, logistic entrepreneurs, researchers, marine operations managers, marine engineers, key players in liner shipping, and anyone seeking to learn about the operations of liner ships involving the proper handling and stowage of cargoes. Register for this free online course from Alison today to improve your understanding of liner operations.
Start Course Now