Building Your Confidence and Working Ethically
In this free online course, learn about body language basics, assertiveness, self confidence and business ethics.
Publisher:

Workforce Academy Partnership
This free online course on building confidence will teach students to build their confidence and work ethically. Discover the basics of body language, from using body language to communicate to reading the body language of others. Learn to leverage your own assertiveness and self-confidence. Lastly, understand how ethics play into business. So, why wait? Start this course today and learn about building your confidence and working ethically.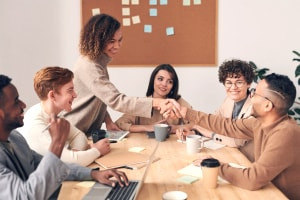 Duration

1.5-3 Hours

Accreditation

CPD
Description
This confidence building course, Building Your Self Confidence and Working Ethically, will provide you with an understanding of the basics of body language and building self-confidence. You will learn about the basics of communicating with body language, reading body language, and body language mistakes to avoid. You will be able to explain differences in body language between genders, nonverbal communication methods, and facial expressions. You will also learn about body language in business, how lying affects body language, and how to improve your body language.
This confidence building training course then explains assertiveness and building self-confidence. You will learn about what self-confidence means to you, how to deal with and overcome obstacles to your goals, and the basics of communication skills. You will also learn about the importance of goal setting, feeling, looking, and sounding the part to become more self confident, and tips for giving powerful presentations.
This building confidence course then wraps up by covering business ethics. You will learn what ethics are, how to implement ethics in the workplace, the rights of the employer and employee, and the business and social responsibilities that come with making ethical decisions. By taking this course you will learn how to make ethical decisions, what whistle blowing means to you, and ethics in business. So why wait? Start learning today.
Start Course Now