Bootstrap 4 - Exploring New Features
Grasp the fundamentals of the Bootstrap 4 framework along with creating a responsive website in this free online course.
IT
Free Course
This free online course describes how the Bootstrap 4 Framework is used in creating a responsive web design. The course takes you through HTML, CSS design templates used in developing a simple website. Important features of Bootstrap 4 including jumbotron, rems, and ems rule as well as the unified UI element are well explained in this course. By the end of this course, you will learn how basic HTML, CSS and Javascript are used for web design.
Take this certificate on your own.
Start now and learn at your own pace.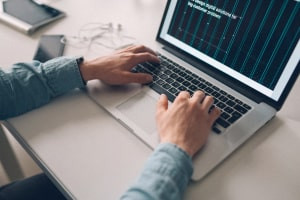 Description
Interested in building a career in web development as a professional developer? Then, you will need to learn about Bootstrap 4 which is a client-side CSS framework that helps create good-looking sites with little effort. In web development, developers and designers play very different roles. Bootstrap 4 - Exploring New Features is a free online course from Alison that analyzes the exciting new features and functionalities of the Framework. This course takes you through how to build a responsive website using the enhanced features of Bootstrap 4.0. This short course begins by taking you through the processes of downloading Bootstrap 4 and creating relevant folders. You will get to see how the folders on "CSS", "img" and "js" are arranged in the Bootstrap folder. You will learn how to operate an editor that will be used in building the responsive site. You will also identify a variety of editors that can be employed and what informs the choice of selecting a particular editor. The course shows you how to download an editor, unzip it, and get it ready for use in developing a website. Learn how to recommend the right extensions to use when creating any type of file. This course also analyzes the process of linking files together when working with an editor.
Furthermore, the course demonstrates how to link the HTML, CSS, and Bootstrap files. You will learn about the processes and procedures for creating a website from scratch using Bootstrap 4. Bootstrap 4 supports several internet browsers but is no longer available for Internet Explorer 4 and 5. This course outlines the compatibility of Bootstrap 4 with other browsers. You will learn how to open up the head tags and body tags. Study the applications and functionalities of navigation bars in developing a website. The course provides an in-depth discussion of how to develop a jumbotron using Bootstrap 4.0 including how to insert background images. Get the chance to analyze the essence of creating background images using a jumbotron as well. You will then be taken through the crucial aspects of a jumbotron and how it is styled.
In conclusion, you will navigate the important features of Bootstrap 4.0 including jumbotron, rems, and ems rule as well as the unified UI element. The course explains how Bootstrap 4, by supporting Internet Explorer 9, has been able to embrace some much-loved CSS modules. You will study how Bootstrap 4 has been able to clean up its components with the removal of classic well, panel, and thumbnail components. You will be introduced to the new card components and their unique characteristics. Finally, you will be taken through how to download the Microsoft Visual C++ component. If you are interested in a simple and free front-end framework for faster and easier web development, then this course would be a great fit for you. Are you a developer in the quest to update your professional skills? Then, start this free online course today and get the opportunity to use Bootstrap 4.0 to easily create responsive and visually appealing web designs.
Start Course Now