Biointerface Engineering: Surface Modification and Characterization
Learn the basics of Biointerface Engineering: Surface Modification and Characterisation - in this free online course.
Publisher:

NPTEL
Metal implants are invaluable solutions for patients who have sustained fractures or require a dental or hip replacement. Have you ever thought about how the body copes with these non-biological objects? In this free online course, you will learn about surface modifications, which makes them compatible with body systems, eliminates immune reactions, and prevents the accumulation of harmful bacteria and dirt. Start this captivating course today!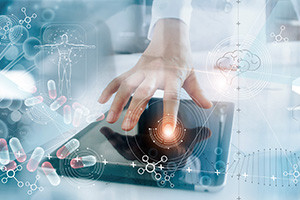 Duration

1.5-3 Hours

Accreditation

CPD
Description
Implants in the body are required in certain medical conditions such as fractures, dental injuries, or hip disorders that necessitate hip replacement procedure. The commonly used materials for the implants are metals such as titanium alloys, stainless steel, and alumina. These materials are non-biological objects and are essentially foreign objects to the body, and therefore require particular improvements to make them compatible with the body systems. In this free online course, you will learn about the surface modification of materials to make them biocompatible. Firstly, you will be introduced to biomaterials, their applications and bio-interfacial interactions. The objectives of surface modification and the surface modification approaches will be examined. After that, you will study the purpose of surface modifications, physiochemical properties of surfaces and the methods of modifying surfaces, followed by the challenges faced in surface modifications of biomaterials. Further, you will study calcium phosphates and their use in coating titanium alloys with a specific focus on Ti-6Al-4V, an alpha-beta titanium alloy with high specific strength and excellent corrosion resistance. Then you will learn about cell adhesion and the relationship between surface roughness and wettability.
Next, you will learn about the methods used in the characterisation of surfaces. Under this topic, you will discover the two broad categories of surface characterisation: microscopic and spectroscopic techniques and their respective sub-categories. These processes help to establish the properties of the material surfaces, such as roughness, hydrophobicity or hydrophilicity, which help design the appropriate surface modifications to suit the intended purpose. For instance, for bodily implants, the materials should minimise bacterial adhesion and possess antifouling properties. After that, you will be introduced to Self-Assembled Monolayers (SAMs), a method of modifying surfaces to make them biocompatible. The process of SAMs formation, the different types of SAMs and the factors affecting the formation of SAMs will be explained. The effect of modification on interface properties will be explored. Then, you will be taken through the impact of SAMs on bio-interfacial interactions, where you will study the effect of SAMs on the surface functionalisation of titanium alloys and the surface modifications of titanium alloys. Finally, you will learn about the impacts of surface energy, protein adsorption and secondary structure.
Knowledge of the characterisation and modification of surfaces is crucial in medicine, especially where implants are involved. Implants are primarily used in orthopaedic surgery for bone strengthening, joint replacement surgery, vertebrae replacement, and artificial tooth implants. Heart pacemakers and contraceptive implants are also other examples of bodily implants that need to be assessed for biocompatibility and modified to suit the intended purpose. Therefore, this course is designed for medical professionals, including general practitioners, orthopaedic surgeons, nurses, and medical officers who would like to refresh or upgrade their knowledge and skills. It will help to reinforce your existing knowledge and will be an invaluable addition to your professional profile. If you are a medical student or aspiring to join the medical practice in the future, then this course for you. You will find it exciting, and it will form an excellent foundation for your career. So, why wait? Start the course now!
Start Course Now