Become a Painter and Decorator
Start a decorating business and learn how to paint, wallpaper and tile like a professional with this free online course.
Publisher:

CourseFlix
Do you like working with your hands to complete creative tasks? A career as a painter and decorator might be perfect for you and this free online course explains the industry, the necessary tools and how to start your own decorating business. We go through proper painting techniques and show you how to install tiles and wallpaper like a professional. This course suits anyone looking to spruce up their own or other people's homes.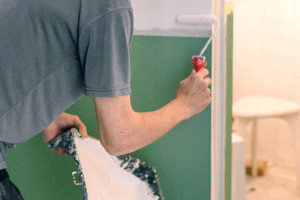 Duration

5-6 Hours

Accreditation

CPD
Description
If you're good with your hands and ready to start your own business, perhaps a career as a painting and decorating contractor would suit you. This profession is broad, which means you can choose to offer services that other decorators do not and that you should know more than just how to work with paint. This free online course thus teaches you everything you need to know about painting, plastering, wallpapering and tiling. We cover five modules and the first introduces you to the decorating industry. We lay out the tasks you will face and the necessary skills and qualifications, including specialized training. Sign up to master the most common tools and adhesives used by contractors.
In the second module, we discuss health and safety in the industry and explain what the law requires of your business, required personal protective equipment and how to set up an emergency plan for you and your team. We demonstrate how to handle and store paint and other solvents carefully, how to safely dispose of waste and the proper procedure for cleaning your equipment. In the third module, we study different types of wall surfaces and how to identify them, which is important when preparing to paint or do repairs. We then show you how to fix walls and the correct procedure for painting windows and doors. The course analyzes the factors involved when choosing the right paint for different floors as we take you through the various types of paints available. This module also covers the materials used to prepare different wall surfaces and features a few tutorial videos that break down how to fill holes and even out walls.
In the fourth module, we explore the proper procedure for priming a surface for painting and the correct technique for painting surfaces that leaves no streak marks, brush marks or borders. The course demonstrates how to paint effects on walls and investigates different paints available to you. We go through instructions step-by-step in tutorial videos to help you apply wallpaper. The fifth module addresses tiling and we identify the tools it requires, how to choose the correct type of tile and the ideal tiling and grouting procedures. We wrap up the course by taking you through what it takes to start and run your own business and how you can draw support from various organizations. This course provides the skills you need to start your own painting and decorating business and can help you to do your own home renovations.
Start Course Now