An Introduction to Product Design Engineering
In this free online course, learn about the models and stages involved in Product Design Engineering.
Publisher:

NPTEL
In this free online course, learn about the models and stages used in Product Design. Learn the different types of product design, birth and growth of a product, and task clarification which sets the foundation for solving different design tasks, where the foundation is continually visited to find weak points. Boost your Product Design Engineering knowledge and skills by studying this comprehensive course.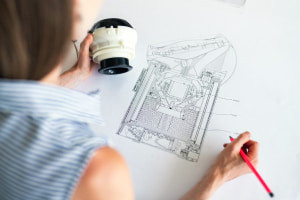 Duration

3-4 Hours

Accreditation

CPD
Description
In this free online course, you are introduced to the world of Product Design Engineering. You will explore the three Product Design Elements, as well as the differences between the Synthetic and the Analytical Method of Product Design and how to carry out a Technical Questioning Exercise. Demonstrations, problems, examples and assessment questions in this instructor-led video-based course, are designed to provide you with a comprehensive foundation, which will enable you to take serious steps into this career.
The course begins by introducing you to the stages in the Product Development Process. Then, the concept of developing a Mission Statement will be discussed, which conveys an exciting vision of the new product to be developed and the project goals. You will explore the concept of Reverse Engineering which is a process of starting the design process with an existing product in the marketplace and redesigning it to correct a perceived defect or envisioned evolution.
You will learn about the Birth and Growth of a product. You will gain insight into Reverse Engineering and Technical Questioning. You will discover the importance of using the Myers-Briggs Type Indicator to measure how people behave and contribute to a work environment. Finally, you will study the Stage-Gate and Spiral Design Methods, Mission Statement examples, and Product Analysis. This course will be of interest to Product Design Engineering students, or those professionals looking to enhance their career prospects in the Product Design Engineering Industry. Why wait? Start this course today.
Start Course Now