An Introduction to Modernistic Poetry
This free online course will introduce you to modernism and educate you about the elements of modernistic poetry.
Publisher:

NPTEL
What is modern poetry? What defines this era and makes it different? This course will give you these answers by introducing you to the features of poetry developed and written during the modernistic era. Here you will learn about the beginnings of modern poetry and the context in which it arose. Discover the poets that influenced this age and what makes their poetry modernistic and era-defining. Discover and investigate the poetry of this era.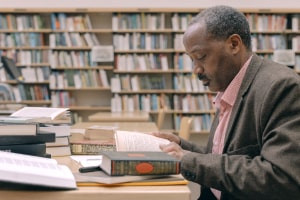 Duration

3-4 Hours

Accreditation

CPD
Description
Poetry is one of the oldest forms of literary art. Poetry conveys a thought or an idea to tell a story intensively, often through lyrical or rhythmic styles. But what is modernistic poetry? Modernistic poetry refers to a fresh style of poetry, which grew out of the traditional form of lyrical expression and extended forward into strong imagery of individual creativity, culture, and dynamic content. The movement also let go of the reliance on rhyme, choosing to focus more on free verse techniques. The era of modern poetry insisted on detaching from the past and used elements from periods in history. They used the different movements to create something 'present-day'. As you study this course, you will be immersed in modernistic poetry. You will look at the shift in mentality that led modern poetry to its place of importance today.
You will first look at the context that led to modern poetry's beginnings and the history behind this movement. This part of the course covers the features and essential characteristics of what makes this type of poetry modern. Do you like the idea of writing poetry without form or style? This course leads you through the exciting shift where the poets began rejecting tradition and used movements such as symbolism, imagism, and vorticism to influence their new style of poetry. You will initially be introduced to the modern poets briefly before exploring their works in-depth, particularly the poets William B. Yeats and T.S. Eliot. The course explores T.S. Eliot, his poetry, and his extensive influence on modernistic poetry. Here you will understand the exciting connections that lead T.S. Eliot to become an influential poet. You will discover his poem, 'The Waste Land', and analyse the intricate details which made the poem one of the most well-known poems in modern poetry.
Finally, you will explore some of the poets and mainly discover the exciting lives of Wilfred Owens and Dylan Thomas. The circumstances that made them write poetry and the impact outside influences had on the poems will be outlined. You will also elaborate and analyse their poems, such as Wilfred Owens' poem 'Strange Meeting', and discover its hidden meanings. This course is an introductory course to help you understand modernistic poetry and the context in which this era came to be. If you have any interest in poetry, you will be captivated by learning the connection between modernity and poetry. This course will also aid in developing your skills in interpreting and making connections. If you are excited to learn about poetry as a higher form of expression and how it influences other parts of life, this course is for you! Enrol today and gain an immense understanding of modernistic poetry.
Start Course Now