An Introduction to Avid Media Composer
Learn the best video and audio editing techniques from start to finish with this free online course.
Publisher:

Holmes Awa
This free online course in Avid Media Composer is the first step in achieving creativity and efficiency with the non-linear video editing application used in most television productions. In this course, learners develop an appreciation of the video editing process and the elementary skills to edit a video project from start to finish. This includes creating project files and then exporting the finished sequence.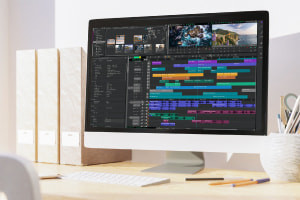 Duration

3-4 Hours

Accreditation

CPD
Description
Avid media composer is for video editors and learners ready to widen their expertise and take their editing skills to a more advanced level. This course is intended to teach students the technical and organisational skills of an assistant editor and develop their editorial skills with the tools and techniques required to produce a well-edited video. Would you like to have the skills to make video or movie clips? With this introductory course in Avid Media Composer, you will learn to import, refine, edit and output videos. This learning module uses a project-based teaching approach designed to get you up to speed on the Media Composer environment in the framework of the Avid Everywhere model.
The course focuses on getting users accustomed to each aspect of the editing process, from preparing and arranging data files to editing and trimming video, audio mixing and video effects, media management and final output. You can also learn creative techniques for retiming footage and tracking objects. Each method within the post-production workflow is explained thoroughly and concisely, using a real-world example from a movie project. In each topic, the course builds on the lessons and exercises found in previous sections. Together, this material can help novice users quickly begin leveraging this powerful editing software.
Avid Media Composer is a software application for editing video and motion picture that uses non-linear editing systems created by Avid Technology. Originally released in 1989 for Macintosh PC as an offline editing system, the application has since developed to allow for offline and online editing, including uncompressed standard definition (SD) videos, high definition (HD), 2K and 4K editing and video finishing. Since the 1990s, Avid has been the leading non-linear editing software system in the television and film industry. If you want to go professional, then this is the tool for you. Avid Media Composer is Hollywood's software application, big film studios, and many independent users. The main advantages of Avid Media Composer are its adaptability to diverse file formats and its flexibility when it comes to accessing its dynamic media folders. One thing that makes Avid Media Composer a dependable tool is how it can work with file-based formats and a wide range of camera manufacturers. System operators can directly access and work on media data, whether they are [1] 2KSD ultra-high-definition, 8K, 4k or standard-definition media. Avid software tools can access and edit the data[2] without the user needing to transcode the media. This software includes features that allow multiple editors to work on a project, even if they work remotely and are not in the same location. Start this course that empowers novice users to take their video editing skills to the next level today!
Start Course Now