Advanced Diploma in Wildlife Ecology
Study the essentials around the concepts of ecosystems, evolutionary biogeography and ecotoxicology in this free course.
Publisher:

NPTEL
Delve into evolution and ecology in this free course on wildlife ecology. You will study the essential concepts of an ecosystem, evolutionary biogeography, modern population theory and community ecology. With this, you will learn about the impacts of humans on ecosystems, human population growth, sustainable development, plastics and biodiversity, and the components of climate change. You will then be introduced to the study of ecotoxicology.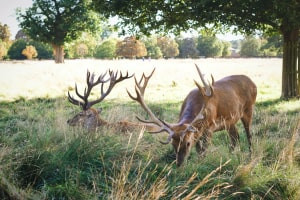 Duration

20-30 Hours

Accreditation

CPD
Description
This comprehensive and wide-ranging course in wildlife ecology covers evolution, ecology, ecosystems, biogeographical evolution, modern population theory and community ecology. It will then go to explain the role of 'fitness' in evolution and the difference between intraspecific and interspecific synergies. You will look at different kinds of behavioural ecologies that are seen in the wild, including foraging. Do you know the impact human population growth has had on wildlife population growth? In this course, you will study theories of population growth and regulation, and population parameters and demographic techniques.
The material then discusses the specific traits that can be discerned from a community, including how they form initially and change over time. Then continue into the analysis of geographic distributions, dispersal and anthropogenic factors including some push and pull elements. You will also study the impacts of human beings on ecology, food requirements and sustainable development. This course will also give you an understanding of the concepts of plastic pollution and biodiversity, components of climate change and the working of the climate system in detail. Have you always wanted to know how plastic affects wildlife miles away from where you disposed of it? Or were you simply unaware that this could be a potential impact? This course is here to teach you the problems faced daily when it comes to pollution and the planet's wildlife. Along with this, you will learn about optimal yield problems as well as numerical analyses of population size and the weight of stock. Then, you will analyze the differences between controlled and uncontrolled pests. At the end of this course, you will study ecotoxicology, pollution management and restoration ecology.
This course is aimed at meeting the interests and needs of students who wish to build their skills in environmental biology or ecology. If you start the course now, you can improve your knowledge of wildlife ecology today.
Start Course Now