Advanced Diploma in Political Ideologies
This free online course covers Political Ideologies and allows you to liaise with the main players in these fields.
Publisher:

NPTEL
This free online Course in Political Ideologies unravels the main themes of the political world such as Fascism and Conservatism. You will be introduced to Liberalism and Marxism, and tackle topics such as Feminism and Ecologism. Nationalism and Republicanism will also be addressed. This course will help you to gain a better understanding and knowledge of these themes. You will also become acquainted with the main players in each political field.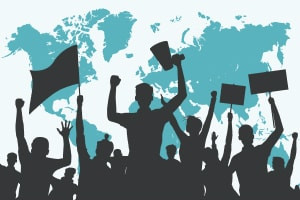 Duration

20-30 Hours

Accreditation

CPD
Description
This course starts by introducing you to Fascism and addresses how easily ordinary people can become involved. Then, through worked examples, you will learn about Conservatism with a specific emphasis on Indian Conservatism. You will also learn about the most fundamental concepts of Liberalism, notably the individual and their rights. This course will look into the works of Karl Marx and Anarchism. Feminism will also be addressed, allowing you to learn about the obscenity of the conditions of women throughout the ages.
Next, the course discusses Ecologism and allows you to learn about our relationship to the natural environment. Other important matters addressed in this course include the challenges and contrast to modernism, and the emergence of postmodernism. This course addresses Theocracy, and goes further to teach you about Fundamentalism. Finally, after covering Technocracy and Managerialism, you will be taught about Nationalism and Republicanism, with some emphasis on such terms as nation, state, and territory.
This Advanced Diploma course covers the most fundamental themes in political Ideologies and allows you to significantly improve your knowledge and understanding in the world of politics. It will be of great interest to students specializing in political sciences, those who have a passion for leadership and appreciate the actions and decisions of political leaders. Why wait! Start this course today and boost your knowledge of Political Ideologies.
Start Course Now