A Guide to Arduino Motion Detection through SMS using Python
Learn to build a motion detector using an Arduino board and Python code with this free online course.
Publisher:

Ashraf Said AlMadhoun
This free online course takes a step-by-step approach to constructing a motion sensor that uses Arduino as a primary component. The course starts by explaining the circuit layout of how each part is connected to the other devices. Understand how you can program an Arduino device and write a computer application in Python that examines the Arduino device. Finally, discover how to configure a telephone account on the Web that can send SMS messages.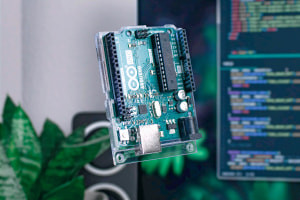 Duration

1.5-3 Hours

Accreditation

CPD
Description
This free online course will give you all the instructions and source code to quickly set up your motion detection system. First, the study includes circuit design, displaying how to connect the sensor to the Arduino board. Next, the course presents an example code written in Arduino, explaining the function of each line of code. Then, the same line by line explanation is given for the Python code, which you will use to interrogate the Arduino system. Have you ever thought about configuring and using a free internet telephone number? This course will show you how to set it up so it can receive signals from your motion detector, interpret it through an application program sitting on your computer and send an SMS alarm via an internet connection. You will also learn how to download all the libraries and additional resources required by each software and correctly configure everything to give a fully functional system.
Arduino is a software and hardware company that fabricates single-board microcontrollers and microcontroller accessories for building electronic devices that are publicly accessible. The boards are fitted with input/output pins connected to numerous other expansion boards or circuits. The Arduino boards feature serial communications interfaces, e.g. Universal Serial Bus (USB) or Ethernet communication interfaces. The Arduino boards have microcontrollers that can be programmed using the C and C++ programming languages. The project began in 2005 as an apparatus for pupils at the Interaction Design Institute Ivrea in Ivrea, Italy. The aim was to provide a low-cost straightforward design for beginners and professionals to build electrical devices that interact with their environment using electronic sensors and actuators. The Arduino microprocessor tool kit has been the processing power behind thousands of projects, from simple systems to complex scientific instruments. A worldwide community of designers has gathered around this open-source platform to form a pool of knowledge that is accessible to anyone.
In the beginning, Arduino was aimed at students with no background knowledge in electronics or programming. Because of its simple and accessible user experience, Arduino has been employed in numerous applications and projects. The Arduino software is simple and easy to use yet flexible enough for advanced users as well. It allows lecturers to use it to prove physics principles, build low-cost scientific instruments or teach students the basics of low-level programming and robotics. There are different microcontroller platforms available for physical computing projects, but Arduino offers some advantages over other systems in that it is relatively inexpensive compared to other microcontroller systems. The Arduino Software (IDE) runs on Macintosh OSX, Windows and Linux operating systems. You can extend the Arduino software through C++ libraries. Individuals who appreciate the technical details can jump from Arduino to the AVR C programming language. Veteran circuit designers can create their version of the Arduino module, extend or improve on it without infringing intellectual property rights. Extend your Arduino programming knowledge to the next level by enrolling in this course today!
Start Course Now