A Complete Edit and Color Grading Guide Using DaVinci Resolve 17
Master editing and color grading while acquiring big picture advice on set and lighting in our free online course.
Publisher:

Sjoerd Wess
Video editing, colour correction, and motion graphics tools have a reputation for frustrating newcomers. To make life harder, you are presented with an unlimited amount of alternatives. This course will divide the information into smaller chunks to make it easier to digest. You will begin by learning about DaVinci in general before moving on to basic editing, the colour page, and finally, colour correction and grading.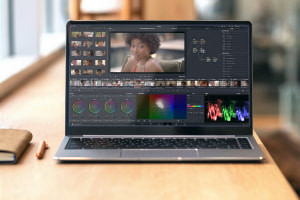 Duration

1.5-3 Hours

Accreditation

CPD
Description
DaVinci Resolve 17 is a popular program for video editing and color correction because of its many features. This course will help you get started with DaVinci 17, even if you have no prior experience. You will begin by creating a new project and importing footage. You will then learn to edit your page by scaling, adding text and effects. Next, the instructor will illustrate simple color correction and audio correction. We'll also talk about the delivery page and how to archive your project. There will also be a demonstration of how to set up a Proxy Workflow.
At this time, you will discover how to add multiple timelines and how to spot your clips. Then, you will study the concept of media management. You will find out how best to organize and manage your files. In addition to this, you will explore the numerous tabs inside of the Color Page. Lastly, you will understand color correction and grading in more detail.
Above all, you will finally open DaVinci and not be overwhelmed. The course is ideal for beginners because it doesn't try to teach you everything about DaVinci, just the fundamental aspects. Start our free A Complete Edit and Color Grading Guide Using DaVinci Resolve 17 and earn a valuable skill.
Start Course Now