A Beginners Guide to Technological Forecasting
In this free online course, learn how technological forecasting may lead a company to significant success.
Publisher:

NPTEL
This free online course covers the technology forecast and lifecycle. By the end of the course, your understanding of strategising, decision-making and innovation within the field of technology forecasting will soar. You will have a thorough knowledge of the technology lifecycle and the confidence to make predictions about the technology evolution. Artefacts, knowledge and skills, settings and rules can be used as components of technology.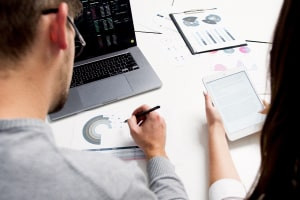 Duration

6-10 Hours

Accreditation

CPD
Description
Businesses have a new battleground that is grounded in the world of technology. Each company would like to command its domination in the field of technology, thus the necessity to forecast. In this course, you will be introduced to technological forecasting, along with the technology lifecycle. Why do businesses need technology and technological forecasting? Companies are interested in reinforcing their plans to gain benefits and competitive advantages. In managing technology, these businesses' top executives should argue when to invest in technology development or withdraw. You will be taught that technology development calls for two critical concepts, invention and innovation. The invention refers to feasibility and performance, while innovation relates to production and profitability. The most significant difference between invention and innovation is time, which is sometimes expressed in years. The reason for this gap is the growth of knowledge. As you work through the course, we will provide other details about invention and innovation. These details will allow you better to understand these concepts and their connection to technological forecasting.
Next, you will learn that for better forecasting, there is a need to have a team of collaborators on board to provide the necessary knowledge from various contexts, including technological, economic, social and environmental fields. The team should be efficient enough to work together and address the broad structure in technological forecasting and decision making. This structure generally consists of four main steps. These include setting up the business context, which impacts the business from various perspectives, allowing possible questions to be expressed. Answering those technical forecasting questions using qualitative methods and quantitative methods will be outlined, contributing to making sound business decisions. Getting knowledge about the future is an important stage of forecasting and will remain a focal point of this course.
Any lifecycle consists of birth and growth that leads to maturity, which will be followed by decline and death. The same goes for the lifecycles within the technology field. The length of time varies according to this lifecycle and divides into fast-paced industries, medium-paced industries, or slow-paced industries. This course will delve into this subject and help your business make sound strategic decisions. It will be of great value to government officials wanting to make a difference, or business managers, who will find the course beneficial as a strategic tool to achieve their long term goals. Students specialising in management or development concerns will find this course particularly helpful. Start this course today and sharpen your understanding of technology forecasting for strategic decision making.
Start Course Now