3d Rendering: Exterior Daylight and Night Renders using 3ds Max and V-Ray
Study the process of creating exterior daylight and night scenes with 3ds Max and V-Ray in this free online course.
Publisher:

Jamie Cardoso
Do you know why Architectural Rendering is such an important skill in the real estate industry? Because architects and developers collaborate by entrusting them with presenting their designs and selling their properties. This unique in-depth step-by-step course takes users through the amazing intricacies of lighting, tweaking shaders, rendering, and the post-production of exterior daylight and night scenes using 3ds Max, V-Ray, and Photoshop.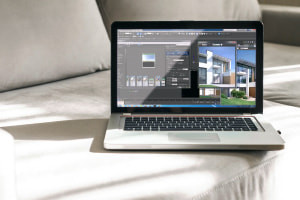 Duration

1.5-3 Hours

Accreditation

CPD
Description
With the advancement of powerful rendering tools, visualizations are becoming increasingly realistic, to the point where it is sometimes difficult to tell the difference between a photorealistic render and a real photograph. This course illustrates the process of rendering exterior daylight and night scenes using Vrayies and 3ds max. Did you know Vray is one of the best renderers for creating stunning photorealistic 3D images? It allows you to control the image quality with only a few settings making it ideal for transitioning from a quick preview render to a high-quality final image. After completing this course, you will have a better understanding of the impact and relevance of each set, so you will know what to expect when adjusting a parameter. At the outset, you will discover that in any daylight render, the sun and its surroundings should always be brighter than an interior or shadowed object.
Next, you will learn how to set up a VRayCamera, adjust the render output size and V-Ray render parameters, and create and configure the V-RaySun and Sky objects. This includes the process of creating curb objects and materials such as glass, metal, and wood. Following this, the methods of designing grass, a tree, and a wide range of environmental assets with the forest pack are explained. In addition, you will study how to apply glossiness reflections in your shaders to improve realism, as well as how to change materials by adjusting specific parameters in the material editor. The importance of multi-matte rendering and V-Ray elements, as well as final editing and optimum post-production processes, is also emphasized. Using tools like highlight, black, contrast, clarity, and sharpen, you'll learn how to integrate all of the pre-rendered parts into photoshop to improve the final image.
Finally, you will explore various cutting-edge techniques for transforming an exterior daylight scene into a Photo-Realistic nighttime shot using VRay and 3ds Max. This will include the process of modifying the render parameters to sketch with the Vray render setup. Following that, you will learn how to configure the Vray dome light to simulate diffuse shadows, as well as how to add blue tones to match the scene dome light color with the photo reference. The process of creating artificial light in the scene, including adding lights inside houses and along streets, as well as cloning the lights, is discussed. Lastly, you will discover how to use advanced post-production techniques to transform an entire render into a stunning final image. '3D Rendering: Learn Exterior Daylight and Night Renders using 3Ds Max, V-Ray and Photoshop' is an informative course that provides you with an in-depth understanding of rendering parameters and the process of rendering in a photorealistic manner.
Start Course Now