3D Mobile Game Vegetation Modeling in Maya and Unity
This free online course will teach you how to create a cartoon tree in Maya and to import to Unity for Mobile Games
Publisher:

Ivan Yosifov
This free online course, 3D Mobile Game Vegetation Modeling in Maya and Unity will teach you how to create a cartoon tree. By the end of this course, you will know how to use the Multi-Cut tool to model the base of the tree, extrude and shape the tree trunk and the branches, using the Edit Mesh function. The course will also teach you how to UV Map the tree for easy texturing in Substance Painter and finally import in Unity.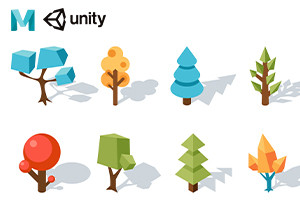 Duration

1.5-3 Hours

Accreditation

CPD
Description
The general overview of this course is to build a mobile game with a simple but creative combination of shapes. The concept of the whole design is to produce a structure that is cartoonish in nature with fascinating features. The final outcome will be a well-crafted tree with many branches and well-placed leaf cubes, beautified with spiral drawings, blended with colours.
This course will teach you how to use this cube to form basically all the possible parts of the tree; the trunk, the branches and the leaves. You will learn with the help of the tools how to adjust the cubic shape to a round tree-like shape by pulling the vertices inwards and outwards. In this course, you will learn how to shape, loop, model the branch. The course also covers how to modify the trunk shape and how to create small grass around the base. The course will then teach you how to import your structures in Unity where you will have the ability to give your model the final outlook.
This course is designed to equip you with the tools, knowledge and skills you need to start creating a 3D cartoon tree for mobile games using Maya and Unity game engine. Whether you are creative and love to create new things or you are interested in game development or you simply want to improve your skills in Maya and Unity game engine, then you are on the right track. Check out this course today and gain some really exciting skills that will enable you to build a 3D structure.
Start Course Now