The Scrum Product Owner Certified (SPOC) course exposes product managers on how to manage & maximize the value of product backlog. You will discover how to work in an agile environment, and we will focus on the product requirements to manage the product outcome. This course prepares you to use tools that help product managers to translate requirements to the development team to achieve the optimum results in their business.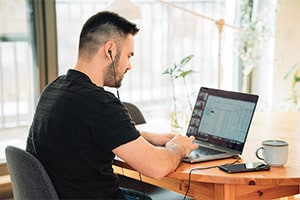 Duración

3-4 Horas

Accreditation

CPD
Description
Are you curious to know more about modern product development and ownership management practices? Then this course is for you. We guide you to extensively master the techniques required as a product owner to manage product backlog efficiently using Scrum. We enable aspiring product owners to develop their knowledge of maintaining and managing a responsive product backlog. We outline a product vision representing the stakeholder's and customers' requirements. The exciting part about Scrum is that it is not only a framework for technology; you can apply it to all areas of life. We introduce six key Scrum principles, their importance and five critical aspects of any project. You will discover the processes revealed within theScrum lifecycle to carry out and deliver solutions to customers effectively. Agile, a project management philosophy, indicates that you organize eighteen core Scrum processes into five groups. We identify these vital roles, especially empiricism authorities, for you as the product owner and the responsibilities of the Scrum Master and the Scrum team. 
This course helps product owners to develop a concrete understanding of everything that drives value from their products. We uncover the knowledge derived from early stakeholder management to release planning and delivery. We give you a step-by-step guide on what the product owner needs to do to support the practical work of a Scrum team. We outline your responsibilities and how to interact with other roles within the project. It annotates how the Scrum Master supports the product owner in the activities of some particular set Scrum sprint. As a product owner, it is crucial to understand how the Scrum team operates, identify risks, assess risks, and know the differences between risks and issues. We demonstrate the role of the project vision in ensuring that there is appropriate alignment between our different customers' stakeholders and what we have in our backlog. We teach you how to request various user group meetings and workshops to help define and prioritize user stories that make up product backlogs.
This course includes practical training and real-world techniques that you can implement immediately at work. Sprint, part of Scrum's framework structure, employs transparency, inspection and adaptation as its basic values. Transparency ensures that all the stakeholders have a common understanding of what is considered "done". Discover the manager's role in establishing and releasing plans through the project lifecycle. We explain how to create a clear line between what the project team is delivering in terms of the various potential deliverables at each sprint and the necessity of minimum functionality. As a result, you better understand all of the advantages of Scrum in product development. Hands-on exercises demonstrate key concepts and enable you to experience the benefits of Scrum. This course is beneficial for product management professionals associated with design, development and testing, production operations managers, project sponsors and owners, and anyone interested in learning the benefits of Scrum for product management.
Inicio Curso Ahora