Understanding Photo Composition
This free online course will equip you with excellent skills to help you excel in photo composition.
Publisher:

Mark Paulda
This free online course about understanding photo composition will empower you to master one of the most important aspects of photography - composition. A compelling photo composition will guide your viewer's eyes through the photographs and give relevance to the subject of your scene in relation to the rest of the image. This course will show you how to master the art of composition without relying on photo editors.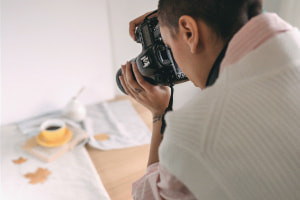 Duration

1.5-3 Hours

Accreditation

CPD
Description
In this free online course, you will learn to master the key elements required for perfect photo composition. You will learn how to turn the ordinary into the extraordinary by seeing everything differently through your viewfinder. First, we'll take you through the basic requirements to get the best out of this course, such as prior technical knowledge about exposure, ISO, and aperture. Then we will explain the meaning of photo composition and how to configure your camera settings to capture stunning images with a clear focal point. We will explain why and how poorly composed photographs leave viewers confused and unsure of where to look in a snap. You will learn to strategically guide your viewers' eyes to exactly where you want them to look and tell beautiful stories with your photographs. Then we will proceed to study simplicity in photography. Why simplify, and why does it work so well in photography? How can you simplify your image to maximize your impact? You will learn how to capture photos even in the most cluttered background by taking control of your camera settings. That's right; you are the boss and not your camera. You determine what your camera captures because it doesn't discriminate - it captures everything you point it to.
Horizontal or Vertical? Do you know the dichotomy between landscape and portrait photos? Do you know when best to capture your images using horizontal or vertical orientation? We will explain why most photographers use horizontal orientation and how you can turn your camera to capture vertical photos. You will also learn the rule of thirds, which places the image off-centre to make the photograph more interesting. Then you will learn how to incorporate leading lines into your composition to enable you to guide the direction of your audience's eyes to where you want them to go. We will also teach you how to add a dramatic effect to make your picture interesting and captivating with a Dutch tilt. We will highlight the importance of creating space for your subject to move in and why it is essential in photo composition. You will also learn why your photo background is equally as important as your subject. We'll show you how to add colour to your photo composition.
Photo composition is one of the most important aspects of photography. A proper understanding of how to artistically compose your photos with a clear focal point will take your pictures to the next level. By the end of this course, you will know how to tell your story and make your audience feel like they were right there when you were shooting your shot. By taking this course, you will master the art of taking captivating images without relying on photo editing apps. Let's start shooting today!
Start Course Now