The Anatomy of The Diencephalon
Develop an insight into the anatomy and structure of the diencephalon with this free online neuroanatomy course.
Publisher:

Learning Anatomy
Are you trying to understand the brain's anatomy? Or are you preparing a presentation on the structures within the nervous system? When looking at the outside of the brain, the diencephalon is a small brain region generally hidden from view. Your instructor, Dr Saqib Mansoor, provides you with an in-depth analysis and discussion on the various parts and functions of the diencephalon. So do not waste time and enrol now!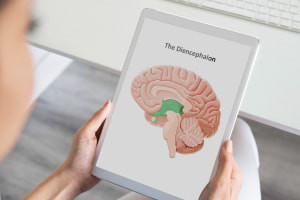 Duration

3-4 Hours

Accreditation

CPD
Description
The brain is a complicated organ. This online course on the anatomy of the diencephalon gives a sound understanding of neuroanatomical science. Dr Saqib Mansoor takes you on a detailed and comprehensive analysis of this crucial part of the central nervous system. First, we introduce you to the section of the diencephalon called the 'thalamus'. We analyse the location and boundaries of the thalamus and provide diagrams and videos to ensure that the concepts become clear. Then, Dr Mansoor will explain the various connections of the thalamus within the brain structure and its key functions in maintaining the temperature and hormonal functions of the body. 
What are the various syndromes caused by the improper functioning of the brain? The next section of the course delves into the clinical aspects of the thalamus within the nervous system framework. Deficiencies of vitamins and chemicals within the brain can cause severe problems for the human body. You will examine these deficiencies and the various injuries or syndromes that can arise. Explore the hypothalamus, its connections and its role in releasing hormones and maintaining physiological cycles. The human brain is composed of numerous fibres responsible for its proper function. You will investigate these significant fibre systems and the part the hypothalamus plays in the pituitary gland.
Are you looking to understand the part of the brain responsible for aggressive or passive behaviour and how the brain is critical in the prevalence of obesity? Various lesions caused in the hypothalamus can lead to all sorts of problems for the human body. From diabetes to kidney tumours, damage to the hypothalamus can cause many life-threatening diseases. Examine how different issues can be caused due to damage in various areas of the hypothalamus. Another crucial role of the hypothalamus is in its emotional function. The human brain is one of the most complex yet understudied organisms of the human body even though a proper understanding of brain function is beneficial to the healthy functioning of the human body as a whole. This course addresses the role of the diencephalon in depth so that you can understand the brain far better. So do not waste time and take your professional and personal learning journey further today!
Start Course Now