Introduction to Stress Management
Gain a better understanding of stress and the factors that trigger stress with this free online mental health course.
Publisher:

NPTEL
Alison's free online Introduction to Stress Management course will show you how stress can be caused by your environment, your body, and your thoughts. This makes the ability to deal with stress one of the most valuable skills you can gain in life. With this course, you will learn about the different types of stress and what can trigger each of them. You will also learn why stress can sometimes be helpful and how it can affect people differently.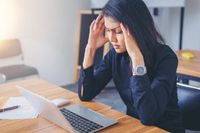 Duration

1.5-3 Hours

Accreditation

CPD
Description
This course will first discuss stress and its causes. You will learn that stress is a stimulus, stress reactivity is a response, and strain is the outcome of a stress reactivity. You will learn the common sources of stress and the types of stress people experience, which may be biological, environmental, psychological, philosophical, and sociological. The course will then cover why people respond differently during stressful situations, before moving to the topics of acute stress and their effects on an individual.

You will then learn about the role of personality, culture, and ethnic backgrounds in stress. The course will teach you some strong methods for recovering from stress, as well as discuss the Locus of Control which refers to the degree of control that individuals think they have over what happens to them. You will also learn how certain life stages can be stressful for different people, and how they can overcome this stress.

Being stressed can consume your body's energy and nutrients which could otherwise be useful in protecting the body from infections. Stress management is aimed at controlling a person's level of stress, and can be used to significantly improve everyday life. By taking this free Introduction to Stress Management course and learning how to keep yourself free from stressors, you can start to live a healthier and happier life in no time at all.
Start Course Now