Introduction to Recombinant DNA Technology
Familiarize yourself with the fundamentals of recombinant DNA technology in this free online course.
Publisher:

Biologyexams4u
Recombinant DNA technology aims to improve or obtain desired characteristics by modifying organisms' genetic material. This course guides you through the entire process of altering genetic material, using insulin production as an example. We will cover all the terms frequently used in rDNA discourse, such as 'vectors', 'ligase' and 'restriction enzymes'. The course will be of particular interest to biology and biotechnology students.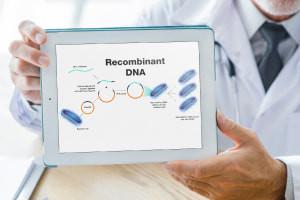 Duration

1.5-3 Hours

Accreditation

CPD
Description
This short course will expose you to the fundamental concepts of recombinant DNA (rDNA) technology. We will begin by providing you with an understanding of the rDNA technology and associated terms like 'ligase' and 'restriction enzymes'. Then, using examples, we explore how genomic libraries are constructed and learn about their importance.
The second half of the course will explain the workflow and process involved in rDNA technology. Firstly, you will learn additional terminology used with the technology before we examine the entire rDNA workflow, using the production of recombinant insulin as an example. Here, you will see a step-by-step breakdown of the production process that provides a clear understanding of what the technology entails.
This course aims to grant you basic knowledge of rDNA technology. Although it could be especially appealing to biology and biotechnology students, it is an excellent introduction to recombinant DNA technology and will also engage others. We have also included an eBook to explain concepts in greater detail. Why wait? Start this course today and become familiar with rDNA technology in three hours or less!
Start Course Now