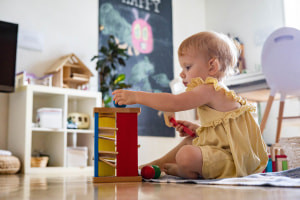 Early Childhood Montessori
-
Learners already enrolled
This Free Online Course Includes:
Hours of Learning
CPD Accreditation
Final Assessment
Start Course Now
COURSE PUBLISHER
Published by
-
Early Childhood Montessori
This free online course teaches all the fundamental Montessori approaches and models used in early childhood education.
This course will provide a historical overview and a thorough understanding of variou...
This course will provide a historical overview and a thorough understanding of various theories of early childhood education. We will then analyze curriculum frameworks and the work of famous figures in the field. In addition, we will look at the foundations of children's social, emotional and language development. We will then examine critical attachment theories and various concepts related to children's emotional development.
Read More
In This Free Course, You Will Learn How To
View All Learning Outcomes
View Less
Complete This CPD Accredited Course & Get Your
Certificate

!
Certify Your Skills

A CPD accredited Alison Diploma/Certificate certifies the skills you've learned

Stand Out From The Crowd

Add your Alison Certification to your resumé and stay ahead of the competition

Advance in Your Career

Share your Alison Certification with potential employers to show off your skills and capabilities
Learner Reviews & Feedback For Early Childhood Montessori
View More Reviews
Back to course information
About Your Alison Course Publisher
- Alison Stats
- Alison Stats
- Learners
- Courses
- Learners Have Benefited From Their Courses
Read More
More Free Online Courses by This Publisher
Learners Who Took This Course Also Enrolled In
Frequently Asked Questions
What is the best free online course in early childhood care?
Is it hard to become a Montessori teacher?
How difficult is it to be a Montessori teacher?
What qualifications do you need to become a Montessori teacher?