Beginner English 107
This free online English course covers word stress, verbs, adverbs of frequency and vocabulary relating to activities.
Publisher:

Advance Learning
If you struggle to find words to stress in English sentences, this introductory English speaking course explains all you need to know regarding sentence rhythm. We study various grammar and spelling rules and show you how to compare present simple and third-person singular tense. We explain 'wh' questions to help you ask for information and go over verbs and adverbs of frequency. Finally, we provide vocabulary relating to activities and chores.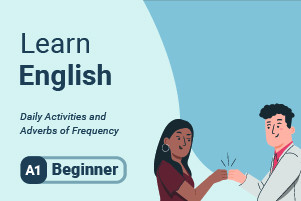 Duration

1.5-3 Hours

Accreditation

CPD
Description
This introductory English grammar course builds on the skills mastered in 'Beginner English 101' through '106'. We help you develop your English pronunciation, grammar and vocabulary until you become confident and proficient in this global language. We study the pronunciation of words and show you which words to stress in a sentence. This is an important skill to master as tone and emphasis can change how a sentence is received.
The course then tackles grammar rules and explains the present simple use of regular and irregular verbs. We demonstrate how to ask questions using 'wh'-words before discussing the six adverbs of frequency, which describe how often an action occurs and include words like 'always', 'sometimes' and 'never'.
Our final topic increases your vocabulary. We teach you how to describe objects as part of activities or chores, such as 'play music' or 'clean dishes'. This course is suitable for anyone who would like to improve their English pronunciation, grammar and vocabulary at each step of the way. We use visual images, audio links and video tools to guide you through this process as you gain confidence in English. Sign up to open up new worlds of opportunity.
Start Course Now