Beginner English 106
Learn how to pronounce words, describe nouns and use the simple present tense in this free online English course.
Publisher:

Advance Learning
This English speaking course explains word pronunciation using different sounds and shows you how to use the simple present tense. We also demonstrate the value of using good descriptive words or adjectives, recapping both possessive adjectives from 'Beginner English 102' and common adjectives from 'Beginner English 104'. We then explain how to use demonstrative adjectives (like 'this and 'that') and when to use singular or plural nouns.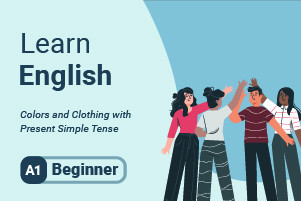 Duration

1.5-3 Hours

Accreditation

CPD
Description
This English course for beginners concentrates on three areas: pronunciation, grammar and vocabulary. We explain how to pronounce words using voiced and unvoiced '-th' sounds and identify the exact pronunciation of plural words. The audio clips  included in this section will help you pronounce words correctly and gain confidence in English.
The course then studies the use of demonstrative adjectives and the present simple tense. We explore the differences between the demonstrative adjectives 'this, 'that', 'these' and 'those'. We then examine the present simple tense and show you how to use words such as 'like', 'want' and 'do' to ask questions. The course then teaches you how to describe nouns like clothing using different colours and when to use singular and plural nouns.
This course is suitable for people who have started on their journey to learn the English language. This is the sixth beginner-level course in our 'Beginner English' series and builds on its five predecessors. We use images, exercises, audio and video examples to guide you through the process of learning this otherwise complex language. Sign up today to take the next step towards becoming proficient in English.
Start Course Now