Beginner English 104
Study basic grammar and acquire vocabulary for identifying and describing family members in this free online course.
Publisher:

Advance Learning
This free online course builds on the skills learned in 'Beginner English 103'. We cover pronunciation and various grammatical topics, including the use of adjectives and adverbs and how to talk about possessions. We also go over basic vocabulary about family to let you classify and describe those close to you while you ask various questions about them. Sign up to become more confident in English, a global language that can open doors for you.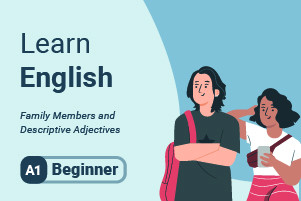 Duration

1.5-3 Hours

Accreditation

CPD
Description
This free online course covers pronunciation, vocabulary and grammar, focusing particularly on adjectives and adverbs. We show you how to identify, classify and pronounce family members' roles and groups. We also explain how to talk about people's possessions while you confidently ask them questions.
The course then takes you through the use of adverbs and adjectives used to describe people and their actions, appearances and personalities. For example, we teach you how to ask questions that start with 'Who' to identify persons. We then look at queries that employ possessive inverted commas and begin with the verb 'Have' to ask about belongings.
This free online course suits anyone who has just begun their journey to fluency in English and is still getting used to this complex language. We build on what's taught in the 'Beginner English 101' to '103' series and take you one step closer to reaching your language goals. We offer clear explanations of grammatical issues and challenging assessments to help you monitor your progress throughout the course. English can open doors for you so sign up to use what you learn in this course in everyday conversation.
Start Course Now