Beginner English 103
In this free online English course you will learn beginner grammar and vocabulary for directions.
Publisher:

Advance Learning
Beginner English 103 will build on the skills from course 102. This basic level course covers pronunciation, grammar, and vocabulary related to giving and receiving directions. There are topics on directions, the imperative, and places around town. By the end of this course, you will be able to ask someone for directions in a polite way and give directions to another person.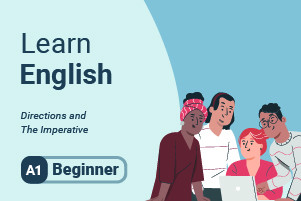 Duration

1.5-3 Hours

Accreditation

CPD
Description
This English course has three parts: pronunciation, grammar, and vocabulary. First, you will learn direction and location words. The included audio files will help you pronounce everything correctly. There is also information about how to identify and write addresses.

Once you know how to say the words related to directions and locations and have practiced with the included questions, you will learn about three forms of the imperative - affirmative, negative, and let's. The imperative is used mostly for directions and instructions. You will also learn to ask for directions and say how you get to a place. Finally, you will learn important vocabulary about places around town and transportation. You will also learn how to read a map. After completing all the topics, you will be able to ask for and give directions using the imperative.

Students with minimal English knowledge or students that want to review the basics will benefit from this course. There are many audio examples to help you learn and questions to check your progress. This is the third course in the beginner level Alison English programme. Enroll now and start going places with English!
Start Course Now