Microsoft Visio 2019
Learn and master the key features and functions of Visio 2019 with this free online course on Alison.com
Publisher:

SimonSezIT
Looking to present complicated data in a diagrammatical way? Or do you want to create a process flowchart for your organization or department? This free online course on Alison.com will help you get acquainted with Visio 2019 which is the perfect software for transforming data into diagrams, flowcharts, and shapes. So don't waste time and learn all about Visio 2019 to contribute to your business or organization.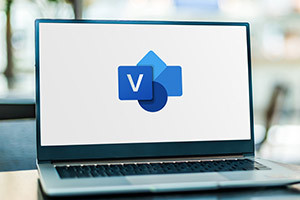 Duración

3-4 Horas

Accreditation

CPD
Description
Are you looking to create a flow chart of the management hierarchy within your organization or business? Or do you want to create a diagram to design the new floor of your office building? If the answer to these questions is yes, then you have arrived at just the right place. This free online course is going to provide you with all the information you need about Microsoft Visio 2019 which can help you present your ideas and concepts in a diagrammatical way. It doesn't matter if you are starting to learn Visio from scratch or simply shifting to the newer version, we have got you covered. The course kicks off by giving you all the information about acquiring or downloading Visio 2019. The learner will be provided with an explanation of how to access Visio once you have downloaded it on your device and the start screen interface. A detailed discussion of the ribbon interface and its various tabs and commands will be provided. The quick access toolbar and how it can be customized based on the users' requirements will also be explained. Various methods available to help users with their drawings, keyboard shortcuts, and key terms will all be part of this Visio 2019 course.
Moving on, the learners' focus will be shifted towards the crucial component of creating and editing drawings. The basics of how to create a drawing and use starter diagrams will be explained in detail. Using the shapes window to efficiently edit and customize the various projects will be discussed. Are you looking to measure the actual physical profile of the drawings you are creating? Visio 2019 contains dynamic grids, rulers, and guides that can provide accurate measurements of the drawings you work on which can help a great deal in real-life situations. Since shapes are an important component of Visio, knowing how to edit, customize, and label shapes based on the users' requirements is a key feature. A detailed explanation of all these features will be provided to the learner as we move along the course. Saving the work performed for later use or transferring it to someone is extremely important. A description of how to secure the work performed and give others access to your work will be provided.
Moving towards the end of the course, the learner will be provided with an explanation of how to create organization charts or management hierarchies using Visio 2019. Visio 2019's ability to import data from various other sources such as Microsoft excel or word and edit it on its own platform will also be analyzed. Another key component of organization charts is styling, the key features and functions of styling and its benefits will be discussed as we go along. From flowcharts to key processes within the organizational work environment, Visio has been one of the most popular tools used by businesses to fulfill their professional and personal needs all around the world. As one of the key components of the Microsoft office family, Visio 2019 is another step forward towards ensuring that great software helps move individuals and businesses forward. So don't waste any more time, get started now with this Microsoft Visio 2019 course on Alison.com.
Inicio Curso Ahora