Strategic Human Resource Management and Development
Learn to effectively manage human resources to improve productivity and success with this free online course.
Publisher:

Human & Emotion
An employee is the most important resource of any organization. Hiring, Managing, and effectively using this diverse workforce requires elaborate skills and processes. Learn how to manage Human resources more efficiently and become a successful Manager with this free online course. Get to know about different phases or types of activities, processes, and skills required to manage the human resource more efficiently even as a non HR Manager.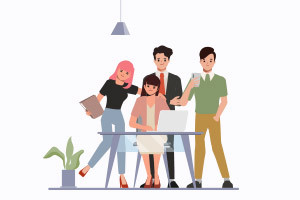 Durata

4-5 Oras

Accreditation

CPD
Description
Do you want to be an effective manager and improve the overall performance of your organization? Or you are a non HR manager who wants to raise HR knowledge and skills for effective and efficient people management. If yes, then this free online course is best suited for you. It introduces you to all the advanced techniques and Processes of Human Resource Management. Understand key principles of HR like Resource management, people's management, and organizational development. By the end of this free course, you will be better equipped and confident to manage people and increase organizational performance.
This free online course focuses and covers the best practices for finding, interviewing, onboarding, and managing Human resources. The course is divided into different modules to help facilitate your learning. Step by step, learn all the levels and processes required for initiating and conducting effective and successful recruitment and hiring drives. You will be guided on various techniques of Interviews, selections, and other required HR metrics like performance management, training, and development. Learn HR functions like discipline and documentation, managing Career Progression, Performance Management, Training, and Developing Competency. The course also covers how to effectively manage the people's issues required for a successful and competent Manager. As a bonus, you also receive all the professionally produced downloadable Templates and formats as downloadable and applicable resources.
This course is perfect for non HR managers who want to improve their leadership and people's management skills to become more effective and efficient. This course is also well designed for those HR professionals who want to improve and better their abilities and get comfortable with all the latest HR techniques and trends. Join this free course now and be ready to create an impact by efficiently managing resources, people, and organization.Enroll to this free course now, and gain all the skills and knowledge to develop you and your team as an effective, professional, and successful entity.
Inizio Corso Ora