Goal Setting: Tools and Tips to Achieve Your Goals
Study tools and tips to help you set clear goals, stay motivated, and achieve your goals with this free online course.
Publisher:

Miriam Lenoff
Goal-setting is a powerful process for thinking about your ideal future, and for motivating yourself to turn your vision into reality. This free online course will teach you about goal-setting, its significance and how to motivate yourself to reach your goals. Anyone interested in learning meaningful tips on how to set clear goals and how to achieve them will find this course beneficial. Register today and enjoy learning about goal setting!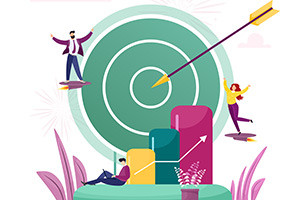 Duración

4-5 Horas

Accreditation

CPD
Description
Highly successful business people, top-level athletes, and other achievers all set goals. The process of setting goals helps you choose where you want to go in life. By knowing what you want to achieve, you know where you have to concentrate your efforts. This exciting free online course will introduce you to steps in goal setting and how to reach your goals. You will start by understanding the meaning of goal, goal setting, the types of goals, and why goals are vital. Discover how to keep a journal and write your notes to help you stay accountable and serve as a reminder of what you need to do. Learn ways to keep yourself motivated and discover some resources and techniques to motivate yourself to achieve your goals.
Next, you will discover who you are to help raise your self-confidence as you recognize your ability and competence. You will learn how to set clear and specific goals that are achievable, and you will also see some examples of smart goals. Gain a good understanding of the difference between long-term and short-term goals and the relationships between long-term goals and life's purpose. Find out the meaning of short-term goals, the benefits of short-term goals, and see some examples of short-term goals. Learn about dreams and desires and how to use them as a motivator. Acquire the skills to creating action plans and the steps in implementing action plans to achieve your goals.
Goal setting is a way to decide what you want to achieve in your life. If you need to succeed, you need to set goals. Without goals, you lack focus and direction. Goal setting not only allows you to take control of your life but also provides you with a benchmark for determining whether you are succeeding. Uncover how to keep yourself accountable and how to create and maintain a schedule to realize your goals. Are you ready to set clear goals and work to achieve them? Enrol in this course and start learning today!
Inicio Curso Ahora