Understanding the Essentials of Excel Data Visualization
This free online course will show you how to turn data into storylines and display them in innovative Excel visuals.
Publisher:

Jordan Goldmeier
Although the phrase "A picture is worth a thousand words" is almost a century old, its value still holds today. This is because visual information accounts for more than 90% of all data transmitted to the human brain. As a result, visual imagery is a powerful tool for communicating both abstract and tangible concepts. This course will show you how to make the best use of your data and findings by visually displaying them in Microsoft Excel.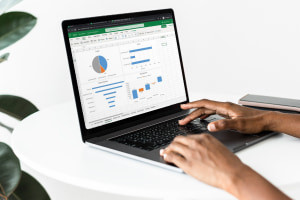 Duração

1.5-3 Horas

Accreditation

CPD
Description
Did you know that the human brain has a highly advanced capability to spot patterns based on position, size, colour, and shape, allowing mental shortcuts? Data visualization enables us to identify significant patterns and connections. If you want to understand better the graphical representation of data and how to use the best interactive media to bring your data story to life, this course is for you. You will learn about visualization concepts such as similarity, closure, common grouping, continuation, colour variation, spatial position and associated attributes. We'll also highlight the differences between data graphics and infographics.
The course then moves on to the principles of data visualization. You will learn underlying visual complexity should match the complexity of the presentation on a one-to-one basis to eradicate confusion and misinterpretation. After that, we will explore chart and table layout models and the stages of the data visualization process. In addition, you will learn how to set up Excel in a specific way. We will start with the installation of two different features, the camera tool and the developer tab.
The course proceeds by demonstrating how to use Excel to create and customize various charts. You'll discover how to use the Conditional Formatting tab in Excel to display the high, low, and negative points with a Sparkline and create a heatmap. Then you'll learn about KPI (Key Performance Indicator) charts and their components. This will include their performance and context and the methods of creating infographics for further reports. Finally, we will show you ways of combining some interactive data visualization features in Excel. Discover how to efficiently interpret and visualize data using Microsoft Excel and related technologies.
Iniciar Curso Agora