Talent Acquisition Practices
Master the process of finding and acquiring qualified personnel with this free online human resource management course.
Publisher:

NPTEL
This free online course takes you through the talent acquisition process, which means finding and hiring good people. Every company wants the best but can't always locate them. We teach you how to keep your business competitive, attractive and employee-friendly as such human resource (HR) techniques can mean the difference between its success or failure. This course hones your leadership skills to bring out the best in those around you.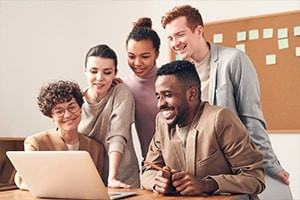 Duração

1.5-3 Horas

Accreditation

CPD
Description
When hiring, you should know what you're looking for in an employee and what you have to offer. A hiring manager's first concern is whether a candidate is qualified and capable of performing, followed by the question 'why should they choose us as a company?'. This demonstrates the importance of attracting talent with your goals, objectives and offerings. A talent acquisition manager handles strategic short- and long-term employee planning to establish what the company needs tomorrow, next year and in five years' time. It takes a lot of information and insider knowledge to make the personnel decisions needed to create sustainable growth and this course explains how to limit risk while increasing output and profit. 
We examine personnel planning, which includes forecasting talent while channelling, evaluating and developing it. This process involves the HR department, a crucial body that ensures that things run smoothly as employees have the training and incentives they need to work well and stay with their company. A good talent acquisition manager also plays a role in candidate evaluation, regulatory compliance and recruiting that aligns with hiring initiatives and branding. The process should work synergistically with all facets of a business by identifying what it is that each department needs in order to attract and integrate people who can efficiently meet the needs of the business.
This course provides you with the specific skills that hiring managers and talent acquisition managers seek. It explains recruitment and also unpacks retention, which can be tricky because people grow out of positions and have personal needs, which a good business will always try to fulfill as retention is more fiscally responsible than recruitment. If you run your own business, let this course help you develop a talent acquisition plan and to make it flourish. If you are a manager or want to work in HR, this course provides crucial skills that can help you add value to the workplace.
Iniciar Curso Agora